This Month in a Nutshell
This month's income report is extra special as I will be making up for last month and covering the exciting growth and development of two of the sites in my portfolio.
If you have watched the latest video with Doug and I, you will know that I have shifted my efforts to focus on "Site 2" which was a site I started at the end of 2020, added 70 articles to, and left it.
I was eager to move on from that site as the more I learned about niches and content, the more I started to feel boxed in with the niche I had chosen. Particularly because there are virtually no Amazon affiliate products to promote.
I wanted the best of both; informational content with earnings from premium ads and affiliate commissions. Which lead to the creation of the other sites and eventually "Site 7", which seemed to have a balance of the two.
When I stopped working on Site 2, I thought I had exhausted all the possible low competition topics and that all that remained was high competition terms. I thought the site had all the content I could squeeze out and I would just put it on the shelf and move on.
What I didn't predict was that Site 2 was going to take off in the way it has, and show continued growth and potential with minimal attention.
So, that is the back story! Now, let's look at what the site has done from November 2020 until now.
Results Snapshot (Site 2)
Earnings 
This Month: $649.12
Affiliate Program 1: $240.87

Awin/ShareASale/Pepperjam/Impact: $12.74

Ezoic: $204.7

Mediation Ad Partners: $36.64

Ezoic Premium: $92.68

Amazon: $12.83

Digital Products: $48.66
My earnings tend to fluctuate quite a bit due to Affiliate Program 1. Some months I will earn up to $1000 from that program alone and others, around $200. So I intend to focus on bringing up the ad revenue with more content so I can get a more solid monthly baseline amount, but also working on ways to earn more from that program.
January 2022 – April 2022 Ezoic Earnings

Up until March 2022, the site had a total of 70 articles on it.
In March 2022, I added 30 articles.
In April 2022, I added 47 articles
I have often thought it strange that as soon as I put Ezoic Premium on, my standard earnings began to drop and my Premium started going up, However, I am going to bet it was due to Q1 more than anything, as many people had reported similar around this time.
The only way to counter that effect, really, is to keep adding new content and improving old so when Qs 2, 3 and 4 show up – everything is in order. Which is exactly what I have done!
Traffic
Google Analytics Snapshot of Site 2 For The Month of April 2022
Google Search Console Snapshot of Site 2 January 2022 – April 2022
Pageviews This Month: 21,489 (vs. 13,884 last month… shut the front door! 54.78% increase?)
Lifetime: 81,332
Sessions This Month: 11,382 (vs. 10,046 last month)
Lifetime: 60,476
The above snapshot shows data from the last 3 months in comparison to the previous 3 months.
The site was only added to Google Analytics around July 2021, but the first articles went up in October/November 2020. The lifetime sessions and visits may be off by a few hundred but not much. As you can see, the bulk of those lifetime pageviews and sessions has been accumulated in the last 12 months.
Results Snapshot (Site 7)
Earnings 
This Month: $261.70
Affiliate Program 1: $56
Ezoic: $44.07
Mediation Ad Partners: $14.49
Ezoic Premium: $19.86
Amazon: $127.28
January 2022 – April 2022 Ezoic Earnings
Traffic
Google Analytics Snapshot of Site 7 For The Month of April 2022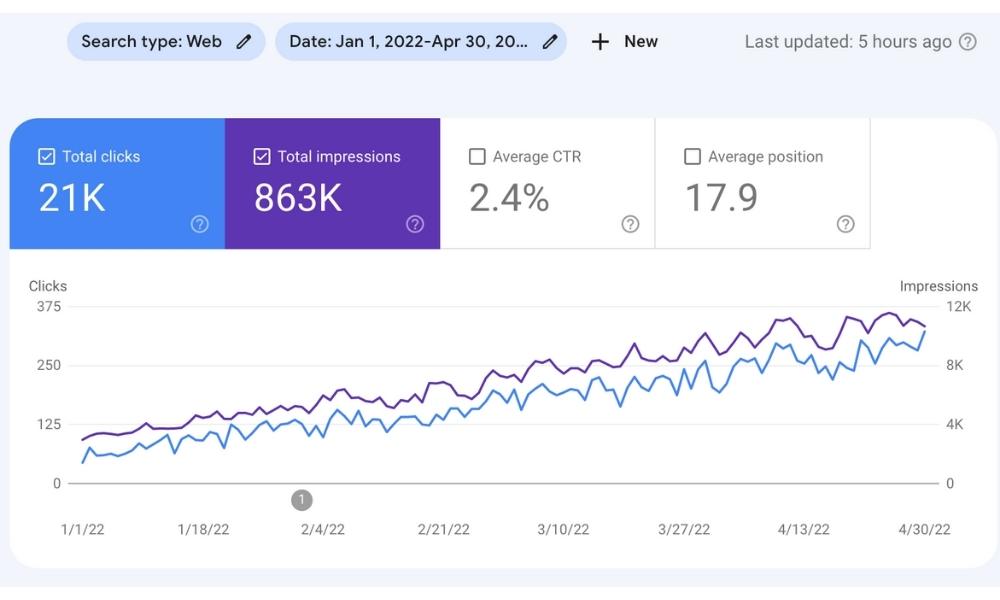 Google Search Console Snapshot of Site 7 January 2022 – April 2022
Pageviews This Month: 12,362 (vs.  9,495 last month)
Lifetime: 36,978
Sessions This Month: 10,242 (vs. 7,636 last month)
Lifetime: 29,474
The above snapshot shows data from the last 3 months in comparison to the previous 3 months.
Expenses
This Month:
AppSumo Deal: $69
Ezoic Premium: ($44 – split between multiple sites)
Content: $590
Hosting: $25
Activities & Accomplishments
Focus Area: Outreach
Luckily, this niche (Site 2) is very outreach-friendly! I can take the approach of "soft outreach", which is simply reaching out to people in the space who are not necessarily competitors and building relationships, offering value, and creating unique opportunities with them.
I saw how successful this could be on a small scale with Site 7 before I stopped working on it – now it is time to roll it out on Site 2.
I will also utilize things like Podcast guest appearances and YouTube to facilitate this.
When it comes to hard outreach (more aggressively link building and trying to find guest post opportunities and niche edits etc), I will not rule this out, but it will have a dedicated period, possibly Q3.
The reason is that I am doing so many things, I want to somewhat isolate these different changes so I can assess what is working and what isn't.
However, I was approached by an outreach company who offered me a free guest post and link, which I have opted to use on Site 2, so that may be an option going forward if I like their results.
Focus Area: Adding content
I am on track with my publishing schedule and my writers are all in the flow of things. They can't really work much quicker so I may need to hire another writer to get a few more articles added each month. The good thing is that I have all my templates and explainer videos ready and waiting.
What Is Working
Slightly Widening The Bottle Neck With A Virtual Assistant
I don't know if I mentioned this before, but shortly after hiring a VA, one whom I praised and took the time to train up and integrate into the business, I had to fire her!
She lost track after just the first week and started getting sloppy. I do not blame her, however, as although I created detailed guidelines and training videos, I set no milestones, targets, or expectations.
I have noticed that even with my writers, people just do better with constraints of some sort; it helps them manage their time and various affairs. Freelancers have other things going on, and if you don't set your expectations and make those clear, naturally, they will take advantage of this. And not in any sort of malicious way, it is just human nature.
So I went back to the hiring drawing board, found a new VA, and drafted a Virtual Assistant job contract detailing what is expected of her, targets, and the payment schedule. We then discussed the times and hours she would work and roughly how long these tasks would take.
And rather than throwing all things at her at once, I got her trained up to my standard of formatting, compressing images, and adding alt text. She will do this for a month straight before I then introduce the concept of interlinking and slowly introduce new WordPress-specific things.
Having Writers Who Are Interested In The Niche
It makes all the difference having writers who are interested in the niche, and I have two very good writers who were passionate about the niche when I hired them to work on another site.
While I can get my other writers working on this site and scale up even faster, I am reluctant to do so as they do not
I would need to go in and add my voice to it which is what I used to do. I haven't needed to do this much with the articles I get back from my two writers working on it already.
Improving Old Content
I have seen the quickest wins in this area! Google already loves many of these old articles, and there is still so much room for improvement.
I used Ezoic's Big Data Analytics dashboard to go in and find the lowest-performing articles as a starting point. And let's just say I could see why they were low-performing…
I ran over them with Grammarly
I added more to the content by way of additional headings and FAQs
I added more inbound internal links (some had none)
I (my VA) added more images (again, some had none)
I also used the Rank Math add-on, Content AI, to find and boost them up with some missing keywords.
Similarly, I've gone into Google Search Console to see what keywords some of my top articles are getting impressions for but show up on page 2 for, and started adding them into those articles as naturally as possible. In some cases, this is will be an H2/H3, in others, I will look for an opportunity to rephrase a sentence or slip the keyword in an image's alt-text.
Copying Successful Articles
Using BDA again, I analyzed the top-performing articles, focussing on both pageviews and earnings, and used that to find, even more, related keywords to target.
The hope here is that I can produce more content along those lines which should result in a good amount of traffic to those pages and higher earnings.
What's Not Working
Page Speed Optimization
This is something I've brushed off with all of my sites. I kinda just hoped the internet would catch up and just load the damn thing instead of condemning every plugin I use.
Unfortunately, no, it is I who needs to catch up, and I can no longer dismiss this thing that could be affecting my site's success. So I will be working to improve that as soon as possible.
Observations &

Parting Thoughts
Right now, site 2 makes up roughly half of my Ezoic earnings but only a third of my visits. Going forwards, my focus will be on finding ways to incorporate my top affiliate programs into existing articles and adding around 30-50 articles per month to get the monthly sessions up significantly.