Welcome to November's update! After a crossing, a big milestone last month—$10,000 in earnings—the site surpassed that in November. Much of the income is likely thanks to a special Q4 commission boost from Amazon, but I'm encouraged to see traffic continues to remain strong.
Even once Amazon's special rates conclude at the end of December, consistently higher traffic should mean less of a "post-holiday plummet" than usual come January.
November also saw a big win for the site overall—it crossed $200K in lifetime earnings!
Read on to learn how I'm working through my 2022 Growth Trifecta Plan. It combines a big content sprint, improving existing articles, and boosting revenue from my own products.
Let's get into it!
The Site in a Nutshell
Whether you've been following along since the beginning, or are new to this case study, here are some key stats for my site.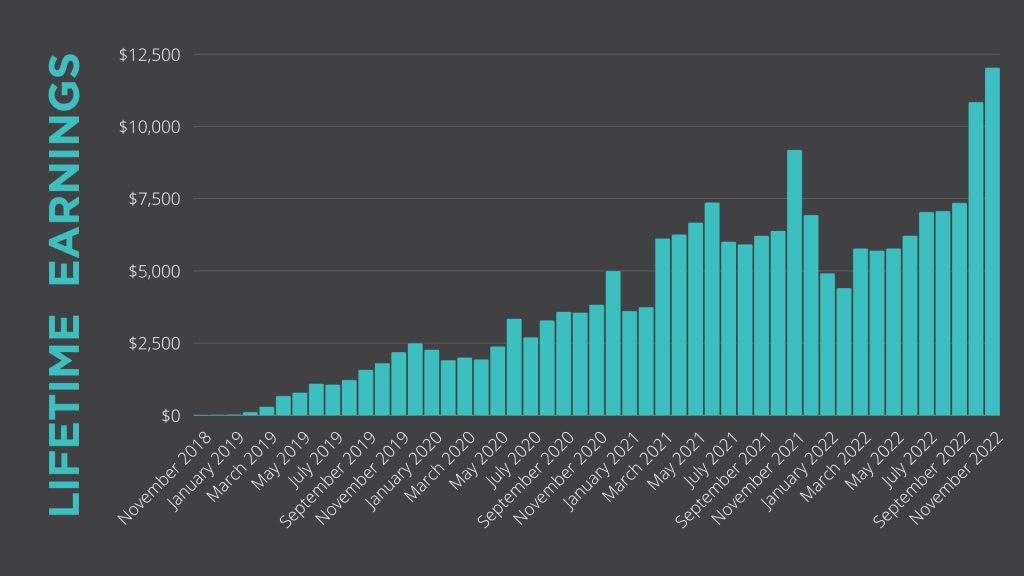 Earnings
This Month: $12,025.46 (site) + $3,400 (writing retainer*) = $15,425.46
This Year: $77,179.19 (site) + $39,400 (writing retainer*) = $116,579.19
Lifetime: $200,460.17 (site) + $39,400 (writing retainer*) = $239,860.17
Traffic
This Month: 172,864
This Year: 1,386,610
Lifetime: 3,510,072
Expenses
This Month: $1,170.00
This Year: $37,019.17
Lifetime: $73,773.17
Note: Here were my biggest investments this month.
$1,545 went to Upwork freelancers for new content and retainer work.
Of that, $375 was for my new developer's first 5-hour block.
*Amended: A major apparel brand within my niche discovered my site and reached out in late 2021 about collaborating. We ended up developing a relationship that became a 2022 monthly copywriting retainer. Since this income is directly the result of my site, I'm including a variation of income including it.
November Updates
Where did I spend my time (and money) for November? Let's take a look.
(Ongoing) Affiliate Programs & Ads
In addition to the three-phase growth plan activities, I keep a close eye on affiliate and ad earnings, my primary income drivers.
Amazon earnings were up again in November, crossing $6,000 for the first time ever!
Amazon was up nearly $1,000 relative to last month, and up nearly $3,000 from November 2021. Ads earnings increased over $1,000 from last month and were up nearly $1,500 from last year. Ads crossed $5,000 for the first time ever. 
I also caught up on smaller affiliate programs that I only check occasionally. I made ~$100 from those programs.
Focus Area: New Content
The main growth strategy for this year is new content generation (i.e. publishing new articles). My original 2022 goal was to tackle the following:
400 new articles published by the end of June (223 published so far)
25 guest posts published this year (4 published so far)
50 new articles published for Q3 holiday sprint (now incorporating this into the 400 article goal)
I stayed up-to-date on publishing and got 12 new posts live in November!
As mentioned in the last update, I now have a Google Analytics Custom Report tracking the traffic specifically for my new content in 2022.
To date, my new content has generated 181,545 sessions this year!
Focus Area: Existing Content
My site has 703 pieces of content, so there's plenty of room for improving existing content. That's why one of my growth tactics for 2022 is improving existing posts.
My goal is to put 100 existing articles through a consistent improvement process this year. 
As a reminder, my approach includes:
Add 2-4 new FAQs to each post (source from "People Also Ask").
Refresh (or tighten up) the article intro and/or product review content.
Add images to keep people on the page longer and boost ad revenue .
My content manager has now onboarded three freelancers into expanded roles—including a writer who will be focused on improving existing content.
I wouldn't say the content upgrade process has been smooth, though. The assigned freelancer hasn't made much progress, and the articles she has tweaked didn't meet our expectations for word count and quality. It's strange because she was one of our best writers. We may end up swapping in another writer for this project.
Focus Area: Selling Products
I sold 2 digital guides in November ($17.98), and I earned $10.20 from the Knowledge Directory.
Other Activities
What else was I up to this month?
Email Growth: I have two free e-course CTAs embedded in relevant blogs, and 63 people have signed up through those this year. Overall, my list grew to 6,549 subscribers, with 425 new folks joining in November. (Plus, my new team member is up and running and sending emails on her own.)
Social Posting: We now have a freelancer who has taken over social media, and she's started posting consistently. Though I have a little tweaking to do on our templates, I'm happy she's self-sufficient.
New Developer: I hired and onboarded a new developer, and so far she's doing great! I'm excited to dig into some projects that have been on the back burner for years.
Parting Thoughts
Overall, it's great to see such a strong holiday performance—and consistently higher traffic. Though I don't know how the year will finish up yet, I'm really excited to see the site cross $200K in lifetime earnings. Not bad for a four-year-old project!
Have additional thoughts about what I should focus on (or ignore) the rest of this year? Other ideas for things I should be working on? Comment below.