This Month in a Nutshell
This month has been a bit relaxed (with content, that is, still quite hectic in general!) I moved house and only got broadband on the 8th. Moving is not fun, but it isn't all bad news – we now have a scenic lake down the road, more outdoor space, greenery, a cute little puppy, and we are a bit closer to family.
All in all, it has been a good month! However, I was more relaxed with adding content and used this time to train my virtual assistants. My focus for this month has been brand building, going deeper, and building a moat around my site. Essentially, seeing it as its own business and not just a section in my portfolio.
I previously mentioned the plugin and calculator I've made. The plugin is something I will be able to share for free once I have everything planned out around it, while the calculator is niche-specific (for site 2), and I made it to use as linkbait. More on that later!
For both sites, traffic and earnings are up. I am seeing some promising results from the work I've been putting in, which is always reaffirming. I've been working non-stop since I started, and while I have not yet experienced blogger burnout, being able to outsource more to my virtual assistants and not feel the need to micro-manage has been a huge relief.
Results Snapshot (Site 2)
Earnings
This month: $987.22
Revenue Breakdown:
Affiliate 1 – $408.65
Ezoic Display Ads – $437.27
Amazon/Awin/Shareasale – $52.51
Digital products – $87.79
Ezoic 2022 Earnings For Site 2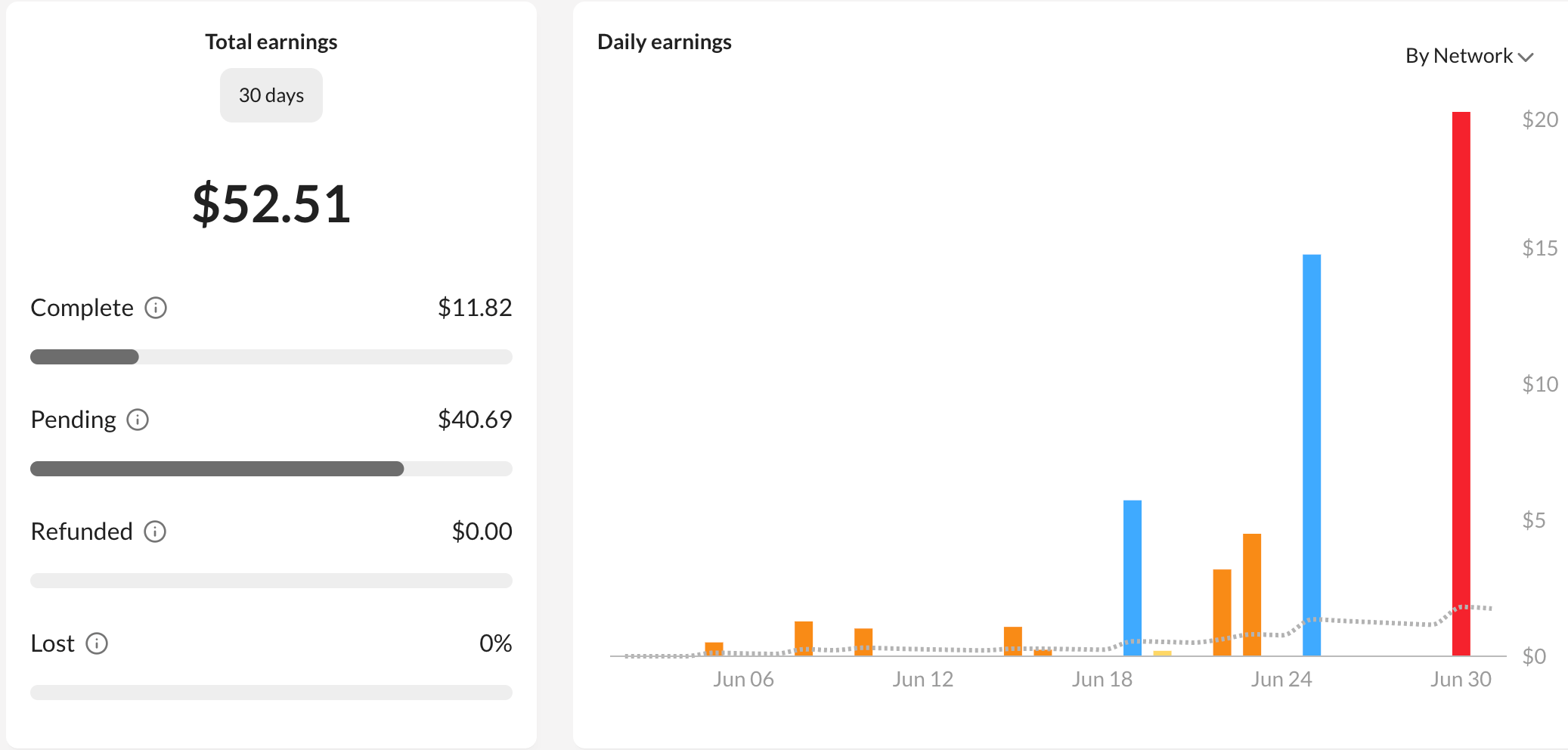 Site 2 Affilimate Screenshot (Not all affiliate programs)
Expenses
This month: $2000.49
Content
Virtual assistant wages
Ezoic premium subscription
Subscriptions
I have some money leaks somewhere, so I will need to go through my accounts and plug those at some point – it all adds up! Only around $700 of that went on content.
I have three virtual assistants, so this was another high cost. And while I only spent $700 with my writers, my VAs have been writing listicle-type articles for me. These articles are straightforward but require a bit of research and clicking around.
The Ezoic premium fee is split between all the sites on the account, so it is only a percentage, and I do not pay for any hosting on this site as it is still hosted on Ezoic's free WordPress hosting.
Traffic (Stats from Ezoic Big Data Analytics)
Pageviews This Month: 22,469
The Last 365 Days: 120,658
Sessions This Month:18,167
The Last 365 Days: 100,695
Screenshot of Google Analytics for Site 2 – looking at the bounce rate and pageviews I have reason to believe my GA code has been installed incorrectly or I have added it twice, so I will need to go and check that out. It is abnormally low and stats do not correlate with the ones in Ezoic. Those seem to be the only stats affected, however.
Until I figure this out, I will use Ezoic's Big Data Analytics for pageview stats. BDA also shows my bounce rate is an average of 25.60%
365 of Site 2 – Ezoic BDA Screenshot
Results Snapshot (Site 7)
Earnings
This month: $280.64
Revenue Breakdown:
Ezoic Display Ads – $114.98
Amazon/Awin/Shareasale – $160.77
Digital products – $4.89
Screenshot showing Ezoic visit, earnings, and EPMV for 2022
Site 7 Affilimate Screenshot (Not all affiliate programs are on there)
Traffic
Pageviews This Month: 18,973
Lifetime: 70,745
Sessions This Month: 16,365
Lifetime: 58,257
Google Analytics Screenshot for Site 7. There doesn't seem to be any issues with GA on this site and stats align with those on Ezoic.
Site 7 January 2022 – June 2022 GSC Snapshot
What's Working
Reusable blocks: Whether I am using them to add contextual internal links or a product or affiliate program; they are working!
As Site 7 seems to be winning with Amazon products, I decided to go into the most popular posts and add a product recommendation block at the bottom of each post. The block consists of some text about why these products are essential and an AAWP (Amazon API plugin) shortcode of a few products.
After adding these blocks to those top 20 posts, I immediately saw results and my Amazon earnings have since shot up (July's update will affirm this).
As a result, I've got my VA to go through and start adding the reusable block to other similar articles and have made two more blocks, in the same fashion but with different text – just so it is more natural and appropriate for the posts.
I am going to continue to experiment with this with both Amazon products and affiliate offers (Site 2).
Click-Up And Managing VA Workload: As a disorganized person, this is big for me (and maybe I will be able to call myself an organized person soon, who knows?). My virtual assistants all work from Click-Up, now. So I have everything planned out and assigned properly. They can also refer back to their training videos to recap anything they need to.
Big Data Analytics: I am still using BDA to analyze which articles are doing well and try to find patterns and keywords around similar topics. I also use it to make informed decisions on what articles need work (if they are worth working on or could do with some internal link love).
What's Not Working
There is nothing that is not working at the moment – I have not hit any sort of plateau or roadblocks and I am seeing continued growth.
I have noticed some inconsistencies whilst reporting; my numbers in Google Analytics and Ezoic's Analytics do not match up. I will say that Ezoic's do seem more accurate with a ratio of visits to pageviews.
On the Horizon 
Next Month
I am adding another 20 posts to Site 2 while going back and fine-tuning older articles. Each article will have a summarized AI-generated video on the topic, some will have an infographic where necessary, and I will repurpose the content for use on a few social media platforms ( I do not believe you need to be on every platform – just where the community of your niche resides!)
Next month I will also discuss some issues I found on Site 2 that affected around 60 articles! Of course, that is a lot of content, so the fact that the site has still been growing despite this issue is even more inspiring. Here is a spoiler: it is to do with indexing.
Parting Thoughts
I think it is time for another content push to keep this positive momentum rolling. I have the keywords for it! My VAs have been trained to handle formatting, adding images, creating videos, etc.
So I could focus on building out another cluster, working alongside my primary writer.
I am yet to start on those "unlimited keywords" on Site 2, so I may delve into that during August.