Updated Jan 15, 2021. Getting organic Google traffic to your niche site is critical. Without it, people don't read the great content you've written, click your affiliate links, or engage with your ads.
But convincing Google to pay attention to a new affiliate site is tough.
It can take 6+ months for new blog content to get out of the "Google Sandbox" and start ranking in a meaningful way.
If you don't like crossing your fingers and waiting around, I developed a 100% white-hat method for getting organic traffic to your niche site — and fast.
It's called the Keyword Golden Ratio (KGR), and it can help you rank in the top 50 (or better) within a few days.
(Yes, a few days — not months!)
What is the Keyword Golden Ratio? (KGR)?
The Keyword Golden Ratio is a data-driven strategy for finding long-tail keywords that are underserved on the internet (i.e. greater demand for the content than supply).
That's why KGR has proven to be the #1 shortcut for getting fast results to a new site.
I created the KGR to find long tail keywords that hardly anyone else had content for.
When you publish a new piece of content targeting a KGR phrase, your article should rank in the top 50 SERP results within a few days – sometimes HOURS.*
If your site already has a respectable amount of authority and it's out of the Google Sandbox, over 6 months old, you can often rank in the top 15!
*We'll talk about a few exceptions later in this article.
5 Reasons to Try KGR
The KGR is helpful for five main reasons.
1. Stay Motivated
Creating a successful niche site doesn't happen overnight, but new website owners need to see small wins early to stay motivated. Seeing site visitors and sales (cha-ching!) early proves that all your hard work CAN pay off.
2. Prioritize Effort
Instead of throwing darts at thousands of keywords blindfolded, you can prioritize which keywords and content to publish first. KGR helps narrow down your list and target low-hanging fruit phrases for which you'll actually be competitive.
3. Be Objective
Trusting your gut is fine for many things, but keyword research isn't one of them. (At least, not early on.) Applying a consistent data-driven formula gives you realistic expectations for how every keyword phrase you target should actually perform.
4. Stand Out
Since calculating KGR is a manual process, most people (including your competitors) won't bother. You'll have access to rich data they can't simply pull up on a free web tool in a couple minutes.
5. Leapfrog Competitors
Few things are more motivational than seeing your site rank above big-name competitors in Google's SERP results.
My KGR Success Story
I'm making a wild claim with the KGR so I understand that I need to show you that it works. I tested the KGR on one of my Amazon Affiliate sites so I can share the earnings and the traffic boost.
In less than a year, the earnings went from $100 to $14,853.
The traffic increased by about 800%.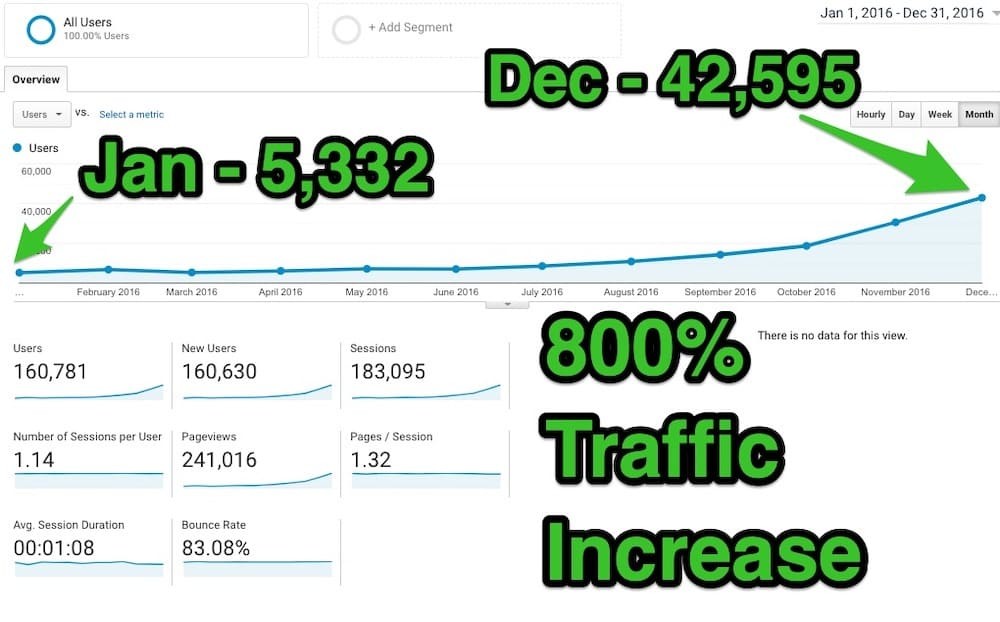 So it worked much better than I ever would have dreamed. I'll be sharing some others' success stories as well.
Here's an overview and if you want to learn more, check out this blog post: 2-Step Process to 10x Your Amazon Niche Site Value.
I published 20 KGR compliant product review articles. Traffic and earnings went up within a few weeks, then grew more.
I published 200* more posts in 5 months with a bootstrapped approach.
I published a few articles in the first month, then reinvested the revenue in more content. By the fifth month, I published about 60 articles.
The site had some existing backlinks from blog commenting and guest posting.
No link building or outreach was done during the 12 month period.
? It's interesting if I can do it, but the real proof is when other people can repeat the process.
How to Calculate the KGR
One of the best things about the KGR formula is that it's simple and (nearly) foolproof:
The Keyword Golden Ratio must be less than 0.25.
The ratio is:
The number of Google results that have the keyword phrase in the title divided by the local monthly search volume, where the LMS is less than 250.

If KGR is less than 0.25: You should rank in the top 100 once your page is indexed by Google.
If KGR is between .25 and 1: You should still rank in the top 250 pretty quickly.
If KGR is greater than 1: You know it's a more competitive term even though the search volume is quite low (under 250).
If you're just starting out, I strongly recommend sticking to the formula and targeting terms under 0.25.
Down the road, once your site is more established, you can experiment with higher search volumes.
This Golden Ratio is going to be your ticket to get fast results and that's very important when you are getting started on your site.
Watch this video for a few success stories from the Niche Site Project Community…
Behind the Scenes of the KGR Formula
When I developed the KGR formula, I capped search volume at 250 because:
Lower search volume terms can rank faster in Google, so a keyword with 250 searches will typically rank faster than a keyword with 2500 searches per month.
Most people target keywords with higher search volumes since there is greater profit potential. That means there are fewer competitors in the game for long-tail keywords.
Remember, your sweet spot is a KGR score of less than 0.25.
Let's look at a quick example to show why you can rank in the top 50 quickly for a KGR term:
If you have a KGR of 0.25 and a maximum search volume of 250, you end up with about 63 allintitle results. (Keep reading if you don't know what "allintitle" means.)
That means that there are only ~63 pages on the internet targeting that keyword phrase by using it in the page title.
With a quality piece of content, you have a really good chance of ranking well amidst only 63 competing pages!
Get the KGR Calculator Spreadsheet
What is "Allintitle"?
Allintitle is an advanced Google search operator that shows the website results which have an exact combination of selected words within the meta title of a post.
If you're doing a lot of research at once, don't be surprised if Google throttles your "allintitle" search and displays this Captcha form:
Google does this to prevent automatic scraping of its data by web robots.
Simply check the box to prove you're a human, and you'll be allowed to continue searching.
Why 250 in the KGR?
My observation is that keyword phrases with higher search volumes have more competition and take longer to rank.
More Competition
There's more competition because businesses can make more money if more people are searching for a keyword phrase. The market follows the money. So improve your keyword search results.
However, that means there are more competitors trying to get a piece of the pie.
Longer to Rank in Google
I haven't tested this, but I have a hunch that higher volume search terms just take longer to move up in the Google ranks.
Years ago, you could start a site and rank #1 in Google in weeks for a keyword phrase that gets 9,000 searches per month.
Times have changed, and I believe that Google has slowed the ranking velocity so that it's harder to reverse engineer the ranking algorithm.
Zig When Others Zag
By targeting a less competitive channel with low competition keywords, your content will be in a better position to rank fast.
How to Use Keyword Research Tools to Find KGR Terms
Now, let's look at real examples of keywords that fit the KGR formula and one that doesn't.
We'll use an example of a niche that is very competitive — yes, even competitive niches will have KGRs terms.
I'm using KW Finder for the example in this article and in the video below, but you can use any keyword research tool, even free ones, that will give you a search volume.
Check out KWFinder, GET 10% OFF by using my coupon code: "nichesiteproject" https://nichesiteproject.com/kwfinder *** I'm an affiliate so I get a commission if you sign up with my link. Thanks!
Here's a video if you want to watch a demo.
1. Find relevant keyword ideas
One of my favorite ways to find KGR compliant terms is to use Google Autosuggest and format like one of these:
best (product-type) for (application or user-type)
or
best (product-type) with (feature)
? I share two other great formats in the next section.
You can do this manually, and it looks like this: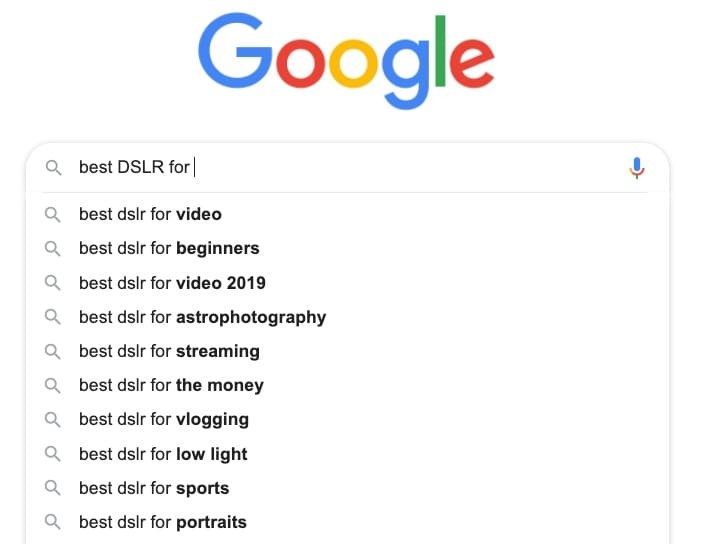 Just start typing in the keyword phrase and pause between words. Google will show you what other people search for.
I like the vlogging topic since I enjoy YouTube so let's go deeper on that phrase.
If you click in the Google search field, then you'll see related searches. I think the specificity of the "flip screen" is good so lets see what the search volume is with KWFinder.
And if we look at "best vlogging camera with flip screen," see the other format with a feature at the end.
However, you can save a lot of time and effort by using a keyword tool like KWFinder with advanced filtering options.
First, enter your search phrase with US and English selected (or whatever is appropriate for you).
Then click on the "Find Keywords" button.

We care about the Search Volume and Keyword Difficulty (KD), but the other metrics aren't important.
You'll now see the unfiltered list of results — quite a few, 496, in this case. And that's really too many to deal with so we'll filter to refine the list.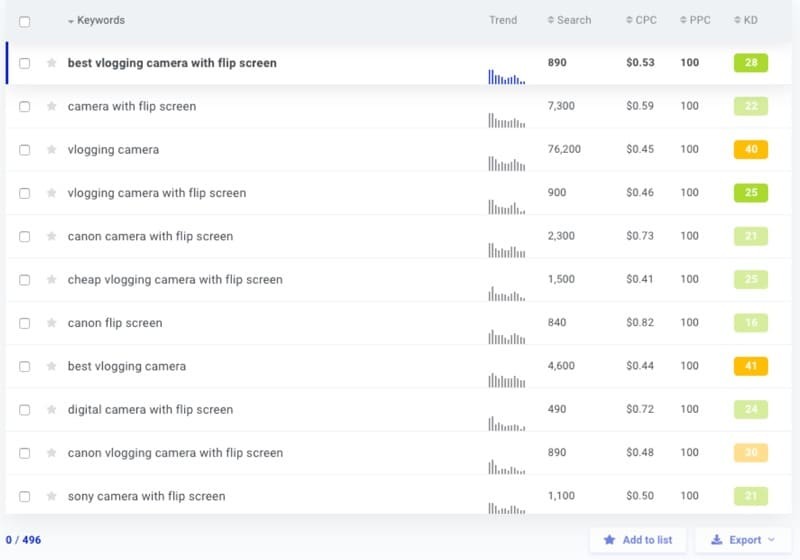 2. Filter out keywords with search volume higher than 250
We can get rid of a lot of noise by removing the higher search volumes.
Just enter "250" for the max search volume.
And while we're at it, I'll filter to include the word "best" so we have mostly buyers terms.
Now we have a much shorter list of 76 keyword phrases with search volumes in the KGR range.
Let's check out "best camcorder for vlogging." You can hover over the row and click to copy the full keyword phrase to save time.
3. Find the number of websites with exact match titles
Next, you need to check the allintitle, the advanced Google Search command.
Type in allintitle: and the search phrase with no spaces and no quotes.
Don't use quotes because that will lower the number of results and throw off your calculations.
Google returns the number of results, which can be used for your KGR formula.
We see there are 37 results, so we can plug that into the formula.
KGR = (allintitle results) divided by (search volume)
KGR = 37 ➗ 190 = 0.195
The result is less than 0.25, so we have our first KGR compliant term!
Want to see me do this process? Check out my demo of the KGR with KWFinder on YouTube.
KWFinder also shows great metrics for each keyword, so you can do competition analysis without leaving the app.
That's a massive time saver!
Let's look at another keyword phrase on the list. It's very common to find many KGR terms at the same time.
"Best camera for blogging and vlogging" gets 60 searches per month.
Just copy the keyword phrase again, then head to Google to check the allintitle.
KGR = (allintitle results) divided by (search volume)
KGR = 14 ➗ 60 = 0.23
Another winner! You might not believe it if you're just getting started with keyword research, but I found those two in about 5 minutes while I was writing this post.
Once you get started and learn the mechanics, you'll be able to find them really quickly too.
A Keyword Phrase That Doesn't Fit The KGR
I saw a keyword phrase that had a very low keyword difficulty number.
So checked the allintitle results.
If we plug it into the KGR formula, then we have a ratio under .025.
KGR = (allintitle results) divided by (search volume)
KGR = 37 ➗ 460 = 0.08
So is this a KGR compliant keyword? Should we go for it?
It's not a KGR keyword because the search volume is over 250. By definition, it's not KGR.
However, it's a great keyword where the searcher is trying to find information to solve a specific problem. There isn't much competition based on the allintitle results.
So I would look at the Google results and if the competition looked reasonable, I would definitely target this keyword.
? I don't suggest you rule out keywords with a dogmatic view of the keyword golden ratio.
What's the BEST Keyword Golden Ratio Format?
It's one of the most common questions I get. So here's a demo of some common formats for the KGR.
Let's focus on buying type keywords, which are the best for affiliate sites. Those are the money-making keywords that people use when they want to make a purchase in the near future.
By Application
People can use products for many different things. So searchers use specific phrases to find the most relevant content.
Format:
Best [product] for [application]
Example:
Best DSLR for landscape photography
By User Type
Different user types can use the same products, and they'll likely have different things that are important to them.
Format:
Best [product] for [user type]
Example:
Best DSLR for teens
By Price Range
Other searchers use pricing as a guide. Some people have a set budget for a specific product, and some people always want the cheapest or most expensive product.
Format:
Best [product] under [application]
Example:
Best DSLR under $500
Be careful with mentioning prices on your Amazon Affiliate site. It's against the Terms of Service to list the price of a product unless it's pulled from the Amazon Advertising API to ensure it's accurate. 
Using SEM Rush to Find KGR Terms from Competitors
You all know I'm a big fan of SEM Rush. I think they are a great tool to use to find Keyword Golden Ratio (KGR) terms.
When I first started experimenting with the KGR, I used SEM Rush almost exclusively to find the terms. In the video, I share the best ways to filter the massive amount of data you can get from SEM Rush so it's manageable.
Here is a link to SEM Rush **It's an affiliate link and I get a commission if you use it and buy a paid plan. If so, thanks!
The KGR Masterclass – It's FREE
I put together a Masterclass on YouTube. It's totally free 🙂 and there are 7 total videos.
Check out all 10 of the videos over on YouTube.
Potential KGR Pitfalls
The KGR is a fantastic tool and can help you get traffic to your new niche site fast. But it's not all rainbows and unicorns.
Here are some things to consider when using the Keyword Golden Ratio.
1. Keyword Stuffing
If Google is trying to return relevant results for searchers, it must help to cram your keyword phrase into your blog post as often as possible… right?
Wrong.
Overusing a keyword phase is called "keyword stuffing," and Google does NOT reward it.
KGR-compliant terms are usually longer than normal keyword phrases, often four or more words.
Using long-tail keyword phrases over and over can be really unnatural to the reader.
For example, it would be weird if you wrote the "best ballpoint pen for journaling" more than a couple of times within your blog post.
Pro Tip: Use a KGR phrase once in the title and once more in the main content. That's it. Don't overdo it.
To make your copy sound more natural, sprinkle in other partial match keywords and related phrases and keywords instead.
Pro tip: Don't pay attention to keyword density metrics in the Yoast SEO plugin. The Keyword Golden Ratio is an advanced technique, and Yoast results don't take that into account.
2. Keywords That Don't Rank
Sometimes a KGR term doesn't rank well, even if all the metrics told you it should.
Why is that?
Google is really good at knowing what the end user (i.e. the searcher) is interested in.
Before targeting a KGR-compliant term, you should Google the term and see if any other affiliate sites show up on page one of the SERP results.
You'll see what Google is delivering to the searcher for that term – and that's what is the user's "search intent" is likely to be.
If Google returns mostly e-commerce sites in the results, searchers tend to like those results better than affiliate sites.
So you may not want to target that term after all.
If you see YouTube videos in the majority of the results, that means searchers usually want to see a video.
If the term happens to be medical or health related, then you're likely to see big authoritative sites like Mayo Clinic, WebMD, medical journals, and others with a huge amount of trust in the medical field.
Pro Tip: Google tells you which types of sites are ranking in the search results. All you have to do is look carefully to find affiliate-friendly terms.
If you don't see any sites that are similar to yours, that's a bad sign. Even a KGR with great metrics is likely NOT going to rank in those scenarios.
3. Difficulty Finding KGR-Complaint Terms
Finding great keywords is a skill, and it's one that you can get better at with practice.
Don't get discouraged if finding KGR terms is hard at first.
Using tools like KWFinder can make it much easier, of course, but you still have to put the time in for your site to grow.
That's actually part of the beauty of the KGR — competitors can't simply buy a tool that churns out KGR-compliant terms.
4. Only Trying One KGR-Compliant Post
The KGR method works really well at scale, and I suggest you try at least 20 KGR terms on your site to begin.
Historically, about 5% of KGR terms perform better than expected, 15% worse than expected, and 80% rank somewhere in the top 30-50 SERP results in a short time frame.
The 80% tend to move higher in rankings over time, depending on the quality of the content, your site's authority, and relative competition.
If you only publish a single KGR compliant post, it may not rank. You might think the entire method is a failure.
However, if you publish enough KGR posts to give it a fair shake, you'll see the magic!
5. Listening To People That ?NEVER? Tried
You should try the KGR yourself. There's quite a few people out there — let's call them internet trolls. They have their own agenda and incentives.
The only way to really know if the KGR can work is if you try it yourself. So don't just believe me about the KGR and don't believe the naysayers either.
Fire up your keyword research tool and start looking. The cost of trying it is very low so don't miss out because some internet troll said:
? "That can't work because [fill – in – uninformed – reason]…"
KGR Frequently Asked Questions
If you have questions about the specifics, you are not alone.
Read the Frequently Asked Questions about the KGR.
What Should You Do If You Have Similar Keyword Golden Ratio Terms?
Students of Multi Profit Site asked me about what to do when you find similar keyword phrases.
That happens a lot when you're going deep on a specific topic dealing and trying to find KGR compliant keywords.
Lashay asked this:
I know you said on the Human Proof Podcast that if keywords are similar you still make separate articles for them. I found an awesome keyword to go after (how to *** *** *** ***) under .25 and then found another great keyword (how to *** ***) under .25,

Would you make separate articles for these if they are this closely related?

And for single product reviews, if you find keywords very closely related like

Surround Air XJ-3800
Surround Air XJ-3800 Review
Surround Air XJ-3800 Intelli-Pro
Surround Air XJ-3800 Intelli-Pro Air Purifier
Surround Air XJ-3800 Intelli-Pro Air Purifier Review
Surround Air XJ-3800 Intelli Pro HEPA Air Purifier

Would you group those together?
Before I answer the question, let's talk about why Lashay and others have this question.
What's The Issue With Publishing Multiple Articles on Similar Topics?
There are two main reasons it's a problem:
It's hard to write unique content on really similar topics. There is no way around it. And if you write it yourself, you'll have a hard time doing it, even if you use an AI writing software like ShortlyAI to help you. If you hire a writer, then the writer will think you're a little silly to ask for such similar content.
Google Panda might come after you. You'll have content that's verging on being a duplicate. Google Panda punishes your site in the search results if you have low-quality content on your site, and a factor in that equation is having duplicate content. (Spammy content and too many ads can also trigger Panda issues.)
The Panda impact is the most important thing to consider since it actually impacts rankings, traffic, and revenue.
Here's What To Do…
If you're not sure what to do, then you can almost always default back to this:
You should think about the visitor of your site.
There are lots of ways to do things, and if you look out for your customer, your visitor, then you're probably making a good decision.
Here is what I do and let's consider two scenarios…
If the content is super similar, then combine the KGR keywords into a single post.
Consider these three keyword phrases:
how to grow tomatoes
how to grow tomato plants
grow tomato plants how to
I'd group those three KW phrases into one post. Each of the visitors is really looking for the same information, but they've phrased it differently. The main thing is they are really looking for the same information.
If the content is similar but the content of the articles is different, then combine the KGR keywords into a single post.
Here are four more keyword phrases, but notice how they are different from one another.
best tomato plants for containers
best tomato plants for patios
best tomato plants for porches
best tomato plants for apartments
When you think about the visitor, you can tell they are distinctly different people — people with different goals and constraints.
Here the content would be different in each case, and it's clear to see that.
So you know that separating the keywords into different posts makes sense to the user.
Could you group the four keywords into one big post? 
Yes. BUT then you're missing the concept of the Keyword Golden Ratio.
It's all about the On-Page SEO — intentionally targeting a long tail keyword using the Meta Title.
So if you group the keywords, that's cool….
That's your choice, but you're not publishing KGR compliant content.
KGR content is one (of many) ways to get traffic to your niche site, especially young sites with zero to few backlinks.
The Keyword Golden Ratio is one of the core ideas in Multi Profit Site (enrollment is closed for now but opens soon).
What about other scenarios?
I covered the two most common scenarios, and those cover the obvious questions about KGR content.
Keyword Research Questions