These days it can be tough to find free keyword research tools. 
Few truly free tools are available!
Few people can afford – or tolerate – trying out every single tool that's out there.
What's a person to do in order to find a tool that gives the amount of data they need yet fits their budget?
We've created this keyword research tool guide for everyone — regardless of your budget.
You'll find the pros, cons, and basic details for free and paid tools with a FREE trial option, along with a comparison guide to decide what's best for you.
One of my favorite tools, Keywords Everywhere, was free, but it now costs a few bucks to use. It's still great and one of the cheapest free options.
Disclosure: Some of these are affiliate links so I earn a commission if you buy. If you do, I appreciate it! It's like buying me a tasty craft beer. Cheers!
★★  Which tools are the best? Our top picks
---
Who this is for and what you'll learn
Part of the problem I've run into when looking at keyword tools available today is that many don't provide search volume data.
In fact, in quite a few articles out there you'll find plenty of suggestions for keyword ideas but not tools that provide data too.
Students of Doug Cunnington's Multi Profit Site course (like me!) know the power of using search volume data to find opportunities using the keyword golden ratio (KGR). To find those fantastic longtail gems we can rank for and gain search traffic & affiliate earnings with, we need relatively accurate search volume data.
In case you're not yet a student of Doug's and not using the KGR approach yet, don't worry – nearly anyone needing keyword data can benefit!
What we'll show you
In this guide, I'll cover only those tools that provide monthly search volume data. I'll provide a brief overview of each one using two types of keywords:
– A product-type niche seed keyword
– A local (business) type keyword
I'll use data from my trusty AHRefs Keyword Explorer tool as a frame of reference for comparison purposes, but I'll limit it to the Having Same Terms option results to keep the results fair & in terms of what it returns. (Doing so prevents me from getting suggested keywords, rather than results with the same terms in them as many free & paid tools will do).
We'll cover 3 free tools and 10 paid tools (with a free trial option) to help you better find what works best for you & your budget.
Our reference keyword data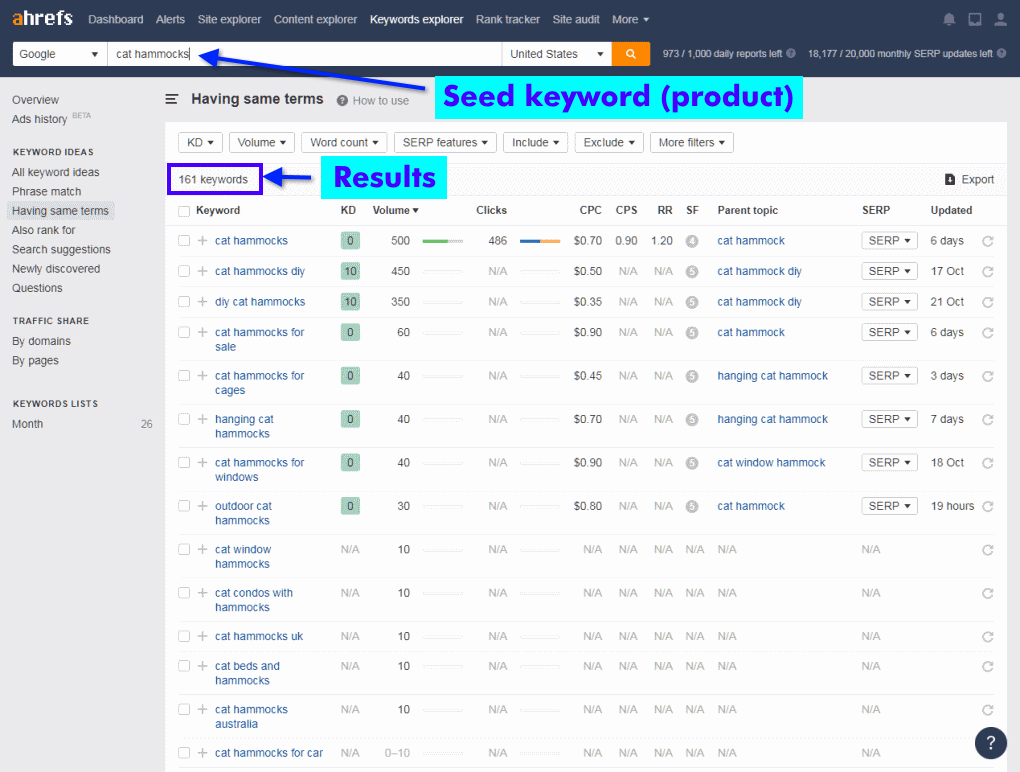 For the purposes of this tool overview, I'll make comparison based on some of the most typical uses: Product-based keywords and local/business-based. The image above shows results for the seed keyword "cat hammocks" in AHRefs, with a total of 161 results including many longtail keywords.

Results for the sample/comparison seed keyword "atlanta roofing." 
Free keyword research tool comparisons

Great for beginners (or if your longtail keyword research needs are pretty basic), these 3 tools, at the time of this post, are the few remaining truly functional ones out there.
1. Ubersuggest
One of the most widely known SEO people today, Neil Patel recently introduced his own free SEO & keyword research tool. He and others have even hyped it up to suggest it could replace the need for paid tools which of course is a bit silly. That's clearly not the case based on my test experience.
However, it does fill a rare spot that free tools almost never offer: It's practical to use, pretty well done, and has pretty good features, too.
After doing a keyword search, results are initially displayed in an Overview dashboard format with search trend data in a large graph and other attributes, too. Clicking the Keyword Ideas selection then provides parameters for the keyword results as shown here.
Trying out my product keyword, I got 51 related results which isn't fantastic but it's decent and there were definitely a fair amount of longtail keywords worth saving. Additionally, it's easy to click on each for more SEO details including the search engine results page (SERP) listings.
These are shown on the right-hand side similar to other tools I've used.
Data is reasonably accurate and looks decent to me, although I can't feel very confident as to where the data comes from isn't disclosed by Neil. CPC data is provided along with a paid difficulty (PD) and SEO difficulty (SD) score. Again, a weak point here is that there's no explanation of how these are calculated.
One of the biggest positive aspects that really stood out is that Ubersuggest provides a filter option so you can easily remove unwanted "junk" or e-commerce results. That's a refreshing change among free tools, past and present.
There's also a .CSV spreadsheet export feature and a clipboard "copy all" button too.
Results for my local keyword search were pretty disappointing, so I can't say I'd feel good about using the tool for that. Compared to my reference AHRefs results of over 1,000 keywords, I got a tiny 115 results.
On the other hand, for a free tool, it's pretty nice to be able to see CPC and competitor data at a glance. 
While Ubersuggest is completely free, the additional features such as site audit and tracking require signing in with your Google account as well as allowing the tool access to your Google search console data.
For test purposes, I limited my use to just the keyword tool for a basic keyword data evaluation. Ultimately, if you're tight on money but would love to have access to some nice basic SEO site tools, it's well worth checking out and you should consider the free signup for more features.
One more comment: A nice touch is the ability to easily click at the top of the keyword results and view keywords based on their type such as questions, comparison keywords, and so forth.
Pros:
Nice layout and many helpful features
Relatively accurate search volume data
No registration required for keyword volume searches
Search trend graph provided
Easy to switch between data display/feature layouts
Provides SERP and competitor data
PD & SD scores provided
Filter options make it easy to exclude or include specific results
Export to .CSV + clipboard copy feature
KW results categorized by type for easy viewing
Related content ideas provided
Cons:
Limited keyword data results (far fewer longtail results than costly paid tools)
No way to be confident regarding PD and SD scoring, no calculation info
Additional features require sign-in
No bulk keyword volume option offered
Kind of annoying to constantly see Neil's face in the dashboard (why?)
Final thoughts:
Unless you need a much larger amount of data (in that case, The Hoth's tool may be best) I can easily recommend Ubersuggest for beginner or other affiliate marketers who can't afford a paid tool. It's a well-done basic tool with limited but decent search volume data.
While it's restrictive in the keyword results you'll get, there are a lot of useful SEO features like many paid tools out there. Additionally, it's surprisingly well laid out and using it becomes natural quickly.
It's a bit slow at times but not enough to be bothersome. Just don't expect to be able to evaluate massive lists of keywords. For that, you'll want to spend some money.

The addition of a search trend graph at the seed keyword dashboard overview is a nice touch and keeps to keep the seasonal aspect in check.
Have a look and see if Ubersuggest fits your needs for free basic keyword research.
---
2. The Hoth member-access free keyword research tool
Ever heard of The Hoth? They're an American SEO service agency that's a provider of guest post services, links, and much more.
After signing up for a member account (this is free) you'll have access to their very own SEO tools of which you've got some nice choices to pick from. In addition to the keyword research tool there's also a bulk keyword volume checker.
Both are really easy to use, but you'll need to login to the member area for access each time.
What's cool about The Hoth's free tool is that while it's limited in options (and the interface), it uses data from the highly-regarded SEMRush tool.
That means you'll be pretty good data and more accuracy than even some budget paid tools!
Results are displayed with some (but not all) of the SEMRush tool's features. For example, the keyword difficulty score (KD) is missing. However, I got a HUGE amount of data and it's well-known for being fairly accurate.
I got a huge amount of results unlike most free tools I've used in the past. There was plenty of data for my product-based keyword search as you can see. Additionally, the keyword results were good in the variations & suggestions it provided.
Likewise, data was very good for my second keyword as well, and if you're looking for cost-per-click (CPC) advertising numbers it's very helpful. As you might expect, the CPC values for my local keyword were very high as is typical.
Unfortunately, the problem is that The Hoth's tool interface doesn't provide filters so you're left dealing with a massive amount of data.
That means you'll either have to export and filter the results yourself or go through them manually to pick out potential keywords (as opposed to reducing the results to a much smaller list).
Ultimately, though, it depends on your needs. It's good data, although the features are limited and moving through the massive results is cumbersome as the displayed keyword count per screen is only 25.
The addition of a trend graph to check for seasonality is nice to have. You've got 2 ways to export the data as well.
PROS:
Pulls data from the highly-rated SEMRush tool
Super easy to use – just enter keyword & go
Display other SEO ratings including trending graph for each
Can export as .CSV and .PDF
HUGE amount of results
Bulk search volume checked also offered
More accurate search volume data than others
Creating a The Hoth account is free and simple
CONS:
No way to filter out unwanted results with "include" or "exclude" features
Keyword results are displayed in a relatively short length (no option to change this)
Missing some features you'd find in the real SEMRush tool
Keyword difficulty (KD) not provided
Must log in before use
Final thoughts:
If you're needing a free tool with lots of results, it's worth checking out. Just be prepared to have to export your data and move through it manually to find those keyword gems as there are no filters provided.

For a free tool, it's pretty good! Having access to data from a high-end paid tool like SEMRush is nice, but sadly the KD score is missing. Overall, it's decent and a good choice for basic needs if you don't mind the compromises that were made that make it harder get keywords you can evaluate.
Visit The Hoth and sign up if you'd like to try it for yourself.
3. Keywords Heaven longtail keyword finder
Keywords Heaven isn't actually an SEO tool provider but is a service provider that offers some tools on their site including. Unfortunately, the free version is restricted to 2 keyword searches per day but a paid version is offered as well at $40/month.
That's a poor value in my opinion compared to what else is out there (such as KW Finder, for example, which offers much more for about the same price).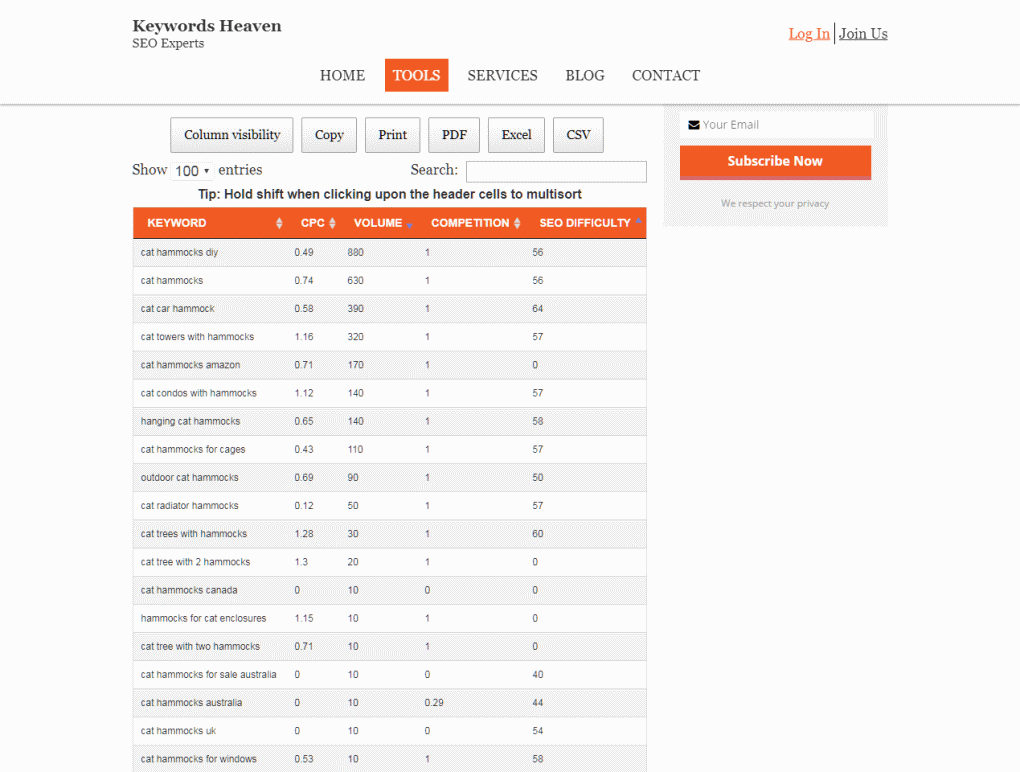 While trying it out, I got only 42 results for our product keyword vs the 161 I got with AHRefs. There were some longtails you can see, however, which is good.
For our local business seed keyword, I got 142 results. In both cases, it's a decent (and expected) amount for a free tool.
However, the documentation seems bare-bones and there's no way to tell how what the Competition score and SEO Difficulty ratings are based on.
It's useful for a few things, but clearly it can't turn up nearly as many longtail results as I'd hoped for (and that can really pay off in low-competition posts).
The biggest issue, however, is that it's a pain to use as it's so slow. When I say slow, I do mean very slow!
PROS:
No registration needed – use it right away
Also provides cost per click (CPC), competition level indicator, and a difficulty score
Provides several great export types including .PDF and spreadsheet formats
Super easy to use – just start a search
Great for a fast keyword check anytime
CONS:
Very low to work
Limited to 2 keyword searches per day for the free version
Paid option is a bit high for what you get
No way to know competition & keyword difficulty accuracy
No save feature – have to export data or lose it
Limited results
Final thoughts:
If you only do a few searches occasionally and don't want to spend money, it could be of use to you. What's interesting is how many keyword result data export options you'll find as even the expensive paid tools don't offer this many. In that aspect, it could be useful.
However, it's slow, very limited in the data it returns, and the free daily limitation (2 searches per day) is a bit too strict. With the better options you have below, I'd simply move along to one of the others.
Also, there's no guarantee how long it will be offered. Curious?
Take a look at the Keyword Heaven longtail keyword finder.

Paid tools
For the paid tools below, each has an offer for a free trial.
However, be aware that in all nearly all cases you'll need to provide payment info for access as the subscription is auto-billing once the trial has expired.
So you can cancel before the automatic charge hits your account.
1. KWFinder (by Mangools)
One of the first paid (and more effective) keyword tools I used shortly after becoming a student of Doug's Multi Profit Site course was KWFinder.
I've always looked back on it with fond memories as it served as a stepping stone for me as I moved forward in my success.
SAVE 10% by using my promo code,  "nichesiteproject".
However, unlike now, it was more limited – and less polished – back then. These days, you'll get not only access to the KWFinder keyword research tool but several other useful SEO related tools as well.
KWFinder lies somewhere between lower-end tools and higher-end tools and is moderately priced (I'll cover this later).
Results for my product keyword search. KWFinder, while not delivering quite as much as more expensive tools, provides pretty solid and easy-to-use data results. Note: The 10-day trial is limited to 5 keyword searches per day, while the paid version offers 100 per day and above.
Running a search for my product-based seed keyword, I was happy to see that KWFinder returned lots of results. These normally include search trend data by default, search volume, and cost per click.
However, sometimes the estimated keyword difficulty isn't displayed so you'll need to click a specific keyword in order for the tool to retrieve current data and display it.
That's always been my one real gripe with KWFinder.
However, it's obvious the accuracy and general functionality has improved over time. Additionally, the company (unlike other tools) provides information on how the calculate the KD score as well as have improved the tool's accuracy.
Data provided
KWFinder has several strong points for those of you who need reasonably-priced keyword data. It's a pretty good tool in my experience and has several strong points:
Easy-to-read data metrics including search volume trends
Keyword difficulty
CPC and paid ad competition factors
First page competitor SERP data
While it's not quite as good as more expensive like SEMRush & AHRefs with billions of datasets to draw from, KWFinder does a pretty good job of keeping you informed and allows you to make good keyword decision more easily. After all, isn't that why you spend the money?
After searching for my local (Atlanta, where I live) seed keyword, I was happy to see that KWFinder returned pretty good results! In fact, based on my test experience it's a pretty good compromise between cost and data performance.
While search volume data isn't quite as good as tools costing twice the price, in my experience it's fairly accurate and pretty trustworthy. I have to say that it's annoying to have to click on individual keywords where the KD and SERP data isn't showing in order to display it.
For example, for those keywords where a magnifying glass icon is shown you'll have to click on each one in order to get the relevant data besides the search trend thumbnail graph, search volume, and CPC & PPC values.
That's my one real complaint about the tool, as that's not a problem with higher-end tools.
Despite that, it's a pretty small gripe and it won't become nearly as much of an issue once you've increased your keyword research skills. (You'll ignore many keywords once you've gained experience and will really only need more data for the particular ones you pick out).
Filters & exporting
One thing I've always liked about KWFinder is that it's easy to filter out junk & irrelevant e-commerce terms that clutter up the data you get.
Once you've run a search it's easy to save what you have to a list you can create or export it for further analysis like is found in the KGR method.
SEO tool features
Unlike some other tools, these days you don't just get keyword data but access to several other Mangools SEO tools
These include:
Competitor data
Rank tracking
Backlink analysis
SEO metrics & inside detailed information
While they're not quite as good as tools that start at 2x the price, they're pretty good for people who have basic needs or need to keep costs down. The rank tracker is especially a nice tool to have as this is normally a separate expense.
A 10-day trial offers up to 5 keyword searches per day and gives you a fairly good feel of how it works, although the keyword results are limited as well. The paid version starts at $29.90/month if you get a year's subscription.
However, unfortunately, if you're on the monthly payment plan the cost is considerably higher (about 40% higher per month than the annual plan). For that reason, it's much more cost-effective to start with the Mangools Basic plan for $358.80/year.
Pros:
Fairly accurate keyword data and relevant search suggestions
Good for both niche site product & local SEO/business basic needs
Polished, updated interface & functionality
Mangools company backing means updated functionality & good customer support
Keyword tool offers all you need for typical use: Trends, search volume, difficulty, CPC/PPC
Fast operation
Keyword list & export features
Good SEO/tips blog information
Price includes several Mangools SEO tools without additional cost (saves money)
Keyword filters work well
KD score with additional information for how it's calculated
Each keyword selected displays relevant competitor/1st page SERP listings
Cons:
Many keywords don't display KD score – must be selected to display
Trial version is limited to 5 keyword searches per day (vs 100 and above for paid version)
Not as many results are more expensive tools
Monthly payment cost is a whopping 40% higher than the yearly plan
No content suggestion feature or suggested keyword features either
Final thoughts:
I've been happy to recommend KWFinder as an option for both new and experienced affiliate marketers who can't (or don't want to) spend the money for much fancier tools.
When you're in the beginning stages of building an affiliate site it's a great stepping stone on the way to more advanced options, as it's not overwhelming yet provides enough data to get you going without breaking the bank.
It's easy to use, keyword data is pretty good, and it's really hassle-free, making it a winner in my book. The addition of access to several very nice Mangools SEO tools makes it a really good value, too!
It's definitely worth having a look. Take advantage of the 10-day free trial and find out why KWFinder is hands-down one of the best affordable keyword tools today.
2. SEMRush
SEMRush is one of the world's most popular SEO tools and keyword research toolkits today.
It's also a rival competitor to AHRefs and the preferred tool package for both SEO agencies and top affiliate marketers.
In fact, until moving to AHRefs, it was a favorite of mine as well – and I still hold it in high regard.
SEMRush provides easy access to their keyword research tool (the Keyword Magic Tool) as well as some great SEO tools for everything from backlink analysis to determining your competition's strong points.
Despite a large number of features, it's actually pretty easy to use (I've found AHRefs to be very powerful but the drawback is that it's a bit less user-friendly in my opinion).
Results for the niche site product test keyword, "cat hammocks." As you can see, SEMRush provides an excellent number of results along with the real metrics you need for good keyword researches.
I tested my product seed keyword using the Keyword Magic Tool and the results were very good! A substantial amount of data and search volumes are pretty accurate. Perhaps not quite as much as AHRefs, but in all honesty, there's not any "critical" difference.
The main goal should be to get reliable, fairly accurate search volumes that puts you in the ballpark and SEMRush certainly does that well. Along with that, you'll also get:
A fairly accurate KD score
CPC & commercial rating data
A SERP features number
Results are categorized on the left-hand side for drilling-down per your type of search intent as well (best, new, and other modifiers etc) with only a click
The top 10 SERP results are available right there with only a click just like AHRefs
As I mentioned earlier, I was a former customer and still would be as it's an excellent tool.
Additionally, SEMRush offers plenty of helpful support information & videos to help you use the tool.
You can also export an enormous amount of keywords in a single file – up to 1 million! (Note that your possibilities are also limited depending on the paid plan you have).
A 7-day trial is offered while the most basic plan starts at $99/month.
For my local/business keyword test, just as for my product seed keyword I also got great results. In addition to the keyword results & metrics I mentioned earlier, you'll also get data for organic AND paid traffic trends over time.
When attempting to plan your keyword or SEO strategy, you'll have the ability to use the one-click reports to view the organic & paid ad traffic, backlink profile, and much more for competitors.
As you might expect, filters are available to eliminate unwanted results based on the various metrics and include or exclude keywords.
Just like with AHRefs, you've also got the ability to use a Gap Analysis (similar to the AHRefs Content Gap feature) and pull keyword you're not ranking for and more from the top-ranking URLs in SERPs.
SEO features
As there's simply too much to cover here, I'll try to keep it brief. SEO features include:
Site projects for multiple domains with rank tracking, SEO improvement suggestions, and audit features
Analysis of competitor domains and deeper criteria
Search traffic tracking
Organic trend tracking
Email notification of issues that need attention for your site(s)
Ad & paid traffic tools
Topic research (content ideas)
Marketing data
There's also an SEO-based writing assistant now available as well, in beta at the time of this post.
Pros:
Excellent overall well-rounded toolkit
Powerful keyword research tool, yet easy to use
Good data exporting ability
Fairly accurate search, KD, and paid ad data
Good longtail search results
Related keyword types (based on word modifiers) are automatically neatly categorized and one click away
Multiple high-quality SEO and competitor analysis tools
Great user information & support
Ability to save multiple sites and track as a project, and set up email notifications for issues
SEO audit suggestions feature is nice
Cons:
Not cheap – paid tool starts at $99
May be overwhelming for beginners who need only basic tools
Without proper training, features are wasted
Data is good, but not quite as good as AHRefs
Final thoughts:
Because it's such a great tool and made keyword research so simple (yet gave me a ton of results, neatly categorized and only one click away) I still happily recommend it. The interface was always one of my favorites of all the tools I've used: It's so jam-packed with features, yet still organized well.
If you're ready for some excellent keyword results that really help you find those low-competition gold nuggets, it's a sure bet. While it's not cheap like some others listed here, remember that you get what you pay for!
I'm happy to recommend SEMRush — Check it out.
3. SERPStat
SERPStat is a too suite you might not have run across before but is definitely worth a look. Similar to more expensive tools like SEMRush and AHRefs, it provides not just keyword research but a handful of other tools for improving your SEO results.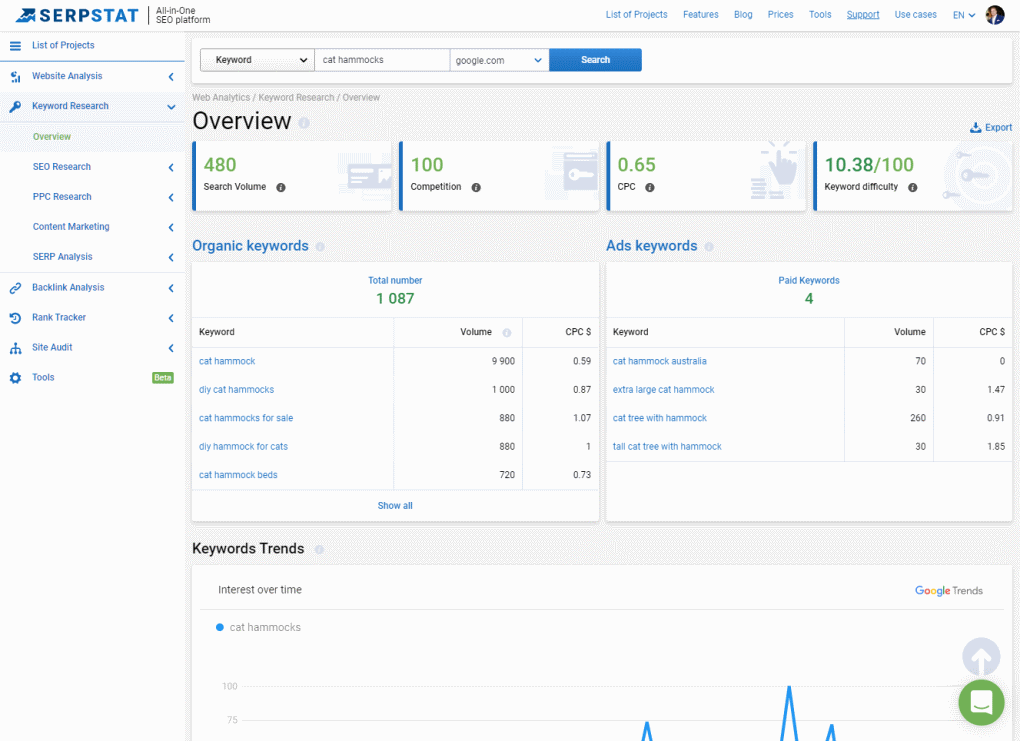 Shown: The Overview screen appears when selecting one of the tools like the Keyword Research feature. here you'll see a quick summary of the seed keyword's major attributes, search trends, and top 10 SERP URLs & snippets/Google features (lower in the dashboard – scroll down). 
Note that SERPStat offers a free "sample" style trial use with 30 keyword searches per day and you won't be able to view all the results, export the data, or use filters in that case. A paid monthly plan begins at $69.00/month.
Keyword results for my test product/niche keyword. I was impressed! The data was pretty accurate and I had a lot of results. Additionally, there's pretty good metrics provided including a KD score and ad data too. Additionally, the tool provides icons to indicate where the keyword is found (Facebook, Amazon, YouTube, and other platforms).
I tested SERPStat using my product niche seed keyword and the results were…very good! Having been disappointed by some less expensive tools, I was happy to see that SERPstat provides not only a lot of keyword data and longtails but fairly accurate search volumes. Sorting is easy as well although that's prohibited in the trial version.
Filters similar to those found in more expensive tools are provided so eliminating unwanted "junk" or e-commerce results isn't a problem. One thing I didn't like, however, was that unfortunately, unlike KWFinder, SEMRush, and AHRefs, you can't view the 1st page SERP URLs immediately in the keyword results.
You can view it, but that's a separate section.
Additionally, the keyword tool provides data regarding featured snippets, image packs, or featured videos in Google results for each keyword term.
Some features are a bit slow to return data, however, which is a compromise you'll have to live with for the price.
The results for my second keyword term were impressive, too. I will say, however, that some results weren't quite as relevant, so you should expect to have to filter out some. For example, "atlanta red roof inn" isn't directly relevant to "atlanta roofing."
That being said, I'll take extra data any day. While SEMRush and AHRefs do a great job of intelligently returning extremely relevant terms, you can't expect a lower-priced tool to do the same.
Just the same, SERPStat returned good results in both keyword research test cases. I do regularly use the SERP feature within data in AHRefs, so it's a feature I sorely missed in SERPStat (viewing 1st page SERP competitors and their stats directly within the keyword data window).
Again, it's not lacking that ability, but you'll have to switch over to it separately. Before I forget, search volume trend data is provided in a clear, easy-to-understand graph along with dates.
An export feature is provided too, although there aren't any real options to mention here.
Additional keyword features
There's also a number of other keyword research features to check out:
Related keywords
Search suggestions
Top pages
Competitors
SEO features
Similar to higher-end tools, you get a variety of SEO utilities as well:
Rank tracker
Website analysis
Backlink analysis
Site audit
SERP analysis
Content marketing
PPC research
Overall, it's a refreshing compromise between price, features, and ease-of-use. SERPStat is laid and well and comes across as a more affordable combination of AHRefs & SEMRush, aside from the missing in-results drop-down SERP feature.
User guides & other helpful information are available so you won't be left in the dark when it comes to getting the best keyword gems. It's very easy to use so there's really not much of a learning curve to speak of.
Pros:
Affordable midrange-level tool
Easy to use & navigate
Good keyword results & data for the price
Keyword search volume pretty accurate
Pretty accurate search volume data
A modern, professional layout that's easy to navigate
Full SEO tool suite included
Good keyword sorting & filters provided
Search trend, paid ads, and more data provided
Google SERPs snippets & featured element data displayed
Competitor analysis provided
Training/user guides provided
Good longtail keyword results
Cons:
No 1st page SERP feature offered in keyword data (like SEMRush, AHRefs)
Can be slow to return data for some metrics (not keywords, however)
Some keyword results aren't highly relevant – will need filtering
Price could be lower to compete with tools like KWFinder
Final thoughts:
While it would be amazing to have a price slightly lower to make it a great alternative to KWFinder, for the money, SERPStat is an impressive and slick midrange tool that works great. It sits in a sort of "sweet spot" between lower-end tools and higher-end tools that cost $30 more per month.
Keyword data is good, and I was happy with what it turned up – better than what I thought I'd get for a $69/month tool! There are lots of ad data tools, SEO features, and so much more that make it a good value. Additionally, SERPStat is obviously well-done and not an "el-cheapo" tool suite by any means.
If you're an intermediate or even a beginner affiliate marketer and you're ready to take your SEO success & keyword results to the next level, it's a great option.
Take a moment and find out today why SERPStat is a great all-around value worth considering.
4. Longtail Pro
Spencer Haws, one of today's most successful & best-known affiliate marketers, is the creator and source of Longtail Pro keyword tool. He originally developed it for his own keyword research before marketing it to the public.
Since that time he's become a partial owner, having sold it.
To be clear, it's not just a keyword research tool but also provides additional SEO tools like rank tracking, SERP & competitor analysis, and more. Its strong point is helping you to find additional longtail & lower-competition keyword opportunities.
Keyword results are plenty, and you're able to use multiple seed keywords as well. Note that search results are not sorted by volume by default so you'll need to click once to arrange them as I did here.
Taking my product seed keyword I check out the results. What's different about Longtail Pro is that you choose the number of results the tool will return when performing a search. That means if your limit is too short (say 20) you'll have to increase it or start with a higher one the next time.
After browsing the results I definitely did find some good longtails and could have found more. One aspect of Longtail Pro that's different is that you can enter multiple seed keywords to generate additional results.
Additionally, I'm very happy to say that good filters are provided so you can easily cut down the data to only the keyword types you're looking for.
Longtail Pro has nice filters and it's pretty easy to use. Within the drop-down boxes you can choose the type of and column you need filtering for. You can also add filters as you work.
Data provides access to both a keyword competition (KC) score, volume, ad & CPC data, and word count too. Clicking on a keyword result row allows you to bring up more detailed data.
While there's a small delay when the keyword data is being fetched, it's not bad in my opinion. Subsequent increases in keyword results were very fast so I don't have any complaints there.
Results for my local/business keyword, sorted by lowest volume first in this example. Longtail Pro generates quite a bit of data.
Running the tool again for my second keyword, the results were pretty good! I definitely didn't have any shortage of longtails and the cost per click data looks good.
I will say that I did find some differences in how the tool treated my first keyword based on the singular/plural form but based on what I've seen I don't think it's an issue, as you'll probably want to use both forms. That's because of how Longtail Pro works – more inputs equal more results.
SEO features
The SEO features such as the SERP analyzer and rank tracker are pretty basic but are polished and everything looks professional. It's not a high-end tool (as you can clearly understand, that would be more costly) but works well for what you pay.
For most typical affiliate marketers (both experienced and beginner) it should be enough to get you the data you need without breaking your budget.
A note about how it works
One thing I'd like to clarify is that the tool is good, but it's important to understand it's a bit different. The user dashboard and tool options themselves are very "clean" and modern, with easy access anytime. However, the tool works a bit differently than others for keyword generation.
For example, keyword searches are considered "projects" and each time you run a search, the next additional keyword search is added to the previously displayed results.
Additionally, because you can use multiple seed keywords, it works by using those together to generate more keyword ideas/results (as opposed to most tools that start a new set of results each time).
You'll want to make sure to delete the old results if you want a fresh & completely independent set of results. It's not an issue by any means, but don't' expect it to work exactly the same way other tools do.
Overall, the interface is pretty good and works great. It's obvious some thought & effort was put into Longtail Pro, as it does deliver longtail keywords!
A free 7-day trial is offered and the paid subscription is available in both an annual or monthly payment plan.
Starting at only $37/month, LTP is a great option. Also, tutorials are provided to help you use it properly and get your money's worth which is great.
Pros:
A unique approach to keyword generation offers more potential longtail results
Keyword searches are organized and can be saved
The slick easy-to-use interface works well
Very good filters provided
Keyword data is good, with competition difficulty scored as well
SEO tools provided make it a good value
Affordable price
Fair daily keyword search limitations
Training/tutorial resources provided
Account & other settings are easy to access & change
Cancellation option is easy to do
Keyword export feature
Cons:
Search trend data not displayed for results
The keyword search process takes some getting used to
Results are not sorted by volume by default
Need to delete current results for a "clean" keyword search
Final thoughts:
While it may take a bit of getting used to, Longtail Pro does deliver its namesake – lots of good longtail keyword ideas. It's an affordable and well-done tool with a lot of features and a good value in my opinion.
You still won't get the same amount of data as much more expensive tools, but it's pretty good for what typical affiliate marketers need.
You'll definitely need to check out the tutorials and learn a bit before getting the most out of it, but that's a pretty small tradeoff when you see the data you can get. Having the SEO tools at hand for no additional cost is pretty sweet, too.
If you're in the market for a good affordable keyword tool and nice value, head over now and try Longtail Pro for yourself.
5. Wordtracker
Wordtracker offers a basic paid keyword search tool with a free 7-day trial.
It's a basic, budget-priced tool as it starts at $27/month.
Additionally, the company makes a few sales claims regarding "proprietary search technology" and implies detailed & comprehensive search data results.
However, as I found out, that's really not what you'll get.
It does have some unique redeeming qualities however that I'll share with you.
Unlike most of the other tools (including free), Wordtracker seemed to perform especially poorly with a plural seed keyword. Despite having enabled an option in the settings, my results were awful!
Unfortunately, when trying my test product seed keyword I discovered I was off to a terrible start. Wordtracker gave me only 3 results!
That's a sign that it's not interpreting plural vs singular related keywords well and I lost confidence in the tool right away. I changed the seed keyword to a singular and was back on track.
The Wordtracker keyword search dashboard for my singular test keyword. Basic keyword parameters are provided (however, CPC and ad data scores are not): Search trends, monthly volume, a competitiveness score, and an all-in-title/in-anchor count.
The tool was able to return keyword search data for the singular form of my search keyword. However, I only got a disappointing 49 keyword results.
That's a very low result for a paid tool and especially disappointing when you consider that a free tool can do about the same – or better! While it is nice that related suggestions are provided automatically on the left-hand side, the tool somewhat feels "light" and a bit cheap.
The provided Include & Exclude keyword filters are nice. Additionally, much like higher-end tools such as AHRefs and SEMRush, you can organize your search data by creating lists that you can name and save and return to later.
Unique features
What's different about Wordtracker is that while only 4 metrics are provided for each keyword result, they're potentially very useful for some users.
For example, the Comp. rating scores the competitiveness of a term while the IAAT value returns the number of sites where the keyword appears in both the title and the anchor text link to it.
You can filter out results by using a sliding control as well as instantly clicking to see results that have the form of a query/question.
When testing using my 2nd keyword purpose, I got a minuscule 18 results – far less than I ever would have guessed. Sadly, due to the lack of ad data and click cost data, it's obviously not a tool I'd recommend for local SEO and business use.
The 7-day trial is somewhat restrictive as you can't export results, access all geographic search locations, or use all the features until you've paid to unlock these.
Additional SEO features
The Inspect tool provides a way to supposedly do an SEO overview for yours or another site's URLs including seeing keyword ideas they're using. Unfortunately, there's not much I can say here as the tool simply didn't work when I tried it multiple times.
5 rating scores are provided including Citation Flow, Trust Flow, Page Speed, Optimization, and Difficulty. However, those just aren't really very practical when you consider what other tools over (SERP competitor analysis, backlink data, and much more).
Pros:
Very affordable at $27/month and up
Provides suggested related keywords
IAAT feature is unique and potentially very useful
Easy to adjust keyword result min./max. filters
Include & Exclude keyword filters
Keyword list options
Cons:
Poor keyword search results
Not useful for local/business SEO
Broken Inspect tool
Cheap feel and performance
Keyword algorithm not interpreting keywords with singular vs plural forms correctly
Final thoughts:
Honestly, I wouldn't pay good money for Wordtracker. It's easily one of the worst keyword tools I've ever tried, and Niel Patel's Ubersuggest offers a lot more – and it's free! It's a shame, as in that price range there's room for a decent tool that can provide a good compromise between price, data results, & features.
Clearly there's a lot to be fixed as I couldn't even use the Inspect tool. Despite multiple tries, it failed to work every time.
It's not worth bothering with – stay away! However, if you're curious to learn more, have a look at Wordtracker.com.
6. Jaaxy
A relatively new tool package, Jaaxy is marketed as "the Research Platform Chosen by the most Successful Entrepreneurs in the World." That's a very bold marketing statement to make, as I know for a fact that many of the most successful entrepreneurs use tools like SEMRush and AHRefs.
Does it live up to the self-proclaimed hype? I was willing to give it an honest chance so I tried it.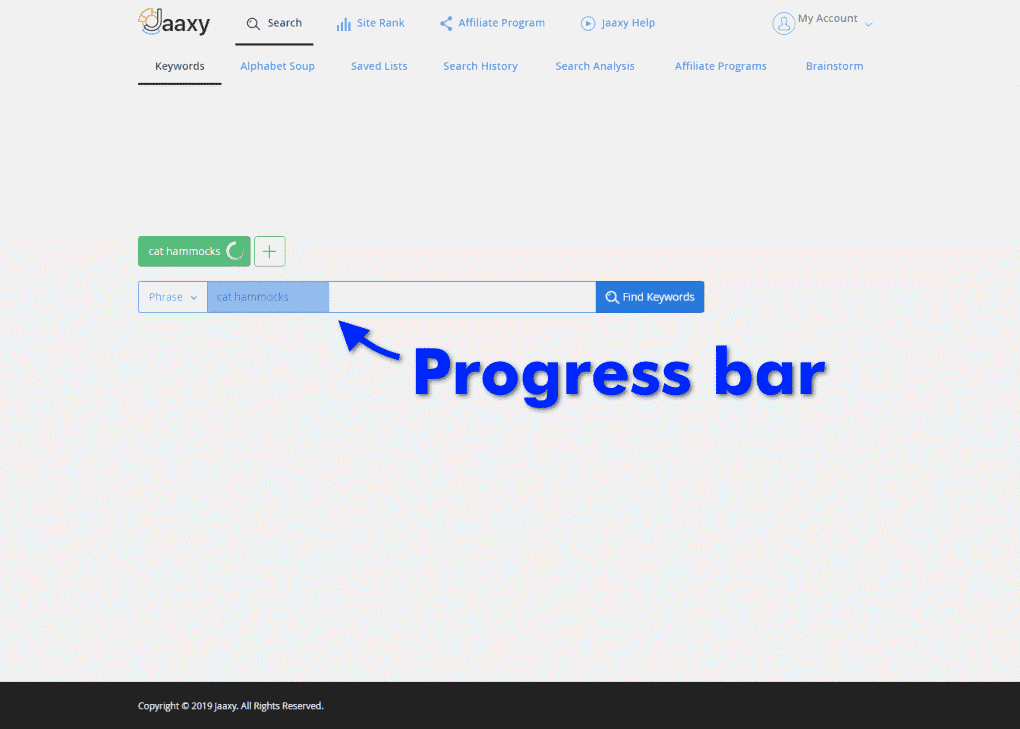 The Jaaxy dashboard is a fairly plain-looking area from which you can select one of the available features. Surprising, for some reason the affiliate program is listed in the main tool options area. When entering a seed keyword you'll see a progress bar as it builds keyword data before displaying it.
I started off fine and moved forward with using the tool for my test keywords just as I did for the others. It's easy to get started as there's a "Keywords" tab in which you can easily start a seed keyword search. A progress bar will display to show you how close you are to seeing data results.
My results for my product-based niche site keyword search. The first thing I noticed is the limited amount of parameters and that the search volume column is not sorted. Even worse, you can't sort them! That's a frustrating thing to discover.
I ran my first test and noticed a number of issues right away. While there were some decent keyword results, there were limited and Jaaxy appeared to only do somewhat crude job of interpreting keyword variations. For example, I didn't see the keyword arrangements other tools showed me (like the different ways the keywords I'm interested in appeared – it's more limited).
However, one of the most annoying things I ran into was the search volume data. Search volumes, unlike other tools, are not sorted from highest to lowest by default. That's not a huge deal – after all, with other tools, it only takes 1 click to fix that and sort them.
Problems that come to mind
My biggest gripe that comes to mind is that Jaaxy has no way that I can find to sort keywords by search volumes.
That's just not acceptable given the competition out there, and it's frustrating, too. Additionally, while there is a keyword difficulty score called the SEO rating, it works the opposite way of most tools.
Instead of having a 0-100 scale for the least to most competitive difficulty, Jaaxy uses a scale of 0-100 for most competitive to least. To make matters worse, when compared to the more accurate KD scores from SEMRush and AHRefs, the scoring isn't right. It's off by a fair amount.
Keyword search volumes are off, too, as when comparing some of my reference keyword data the results in Jaaxy simply aren't very accurate.
Likewise, when testing my local business test keyword, the results were disappointing. Several search volumes were way off and don't even pass the common sense snuff test.
Additionally, it's not a tool you can use for ad & pay-per-click data decisions as there simply isn't any data provided for those. No seasonal search trend data is provided either.
Additional keyword research features
There's also an Alphabet Soup feature which allows you to manually pick keyword variations based on alphabet letters a-z, although it's more like a slowed-down version of tools that return Google autocomplete suggestions. The Related tab on the right-hand side of search results shows a list of keywords that share the seed keyword too.
However, while the Brainstorm tab might sound like a great option, I found little to no use for it, and in fact it was blank when I did my initial searches.
The Keyword Quality Indicator (KQI) is a type of rating to show the "quality" (ranking opportunity) of a term while the Quoted Search Results (QSR) shows those sites ranking for the same exact keyword in Google.
Another thing that stuck out is that there aren't any keyword result filters. That makes it even harder to deal with.
SEO tools
Jaaxy also provides a way to check SERPs for your competitors or submit and analyze a URL for more data. However, unfortunately, they're rather primitive and don't really offer a lot.
Pros:
Seed keywords are highlighted in results
Keyword "quality" score and SEO difficulty score provided
Easy to create and save keyword lists or view search history
Simple to start a keyword search
Alphabet Soup option for additional keyword ideas to research
Cons:
Poor data results
No ad & CPC data
No search trend data available
SEO tools are basic at most
Brainstorm feature has no function for seed keywords
Overpriced for what you get
Final thoughts:
Jaaxy is essentially a tool marketed as something it's not – an advanced, effective, and easy-to-use keyword research & basic SEO tool. It's frustrating to use (you can't sort keyword results) once you've tried better options and the data simply isn't very good. Additionally, you pay the same or less with other tools that deliver better results, more trustworthy data, and a much better interface.
Additionally, I couldn't find any real tutorials to help me. Instead, there are few videos with little to demonstrate the features and how to effectively use it. At $49/month and up for the paid subscription, I'm disappointed.
Long story short, Jaaxy is a tool that doesn't deliver as much as it should for the price.
However, if you'd like to give it a try, find out more about Jaaxy now.
7. Moz Pro
Moz Pro is another one top paid tool for both agency-level SEO and keyword research – as well as for individuals if you're interested in truly next-level SEO & keyword data.
As you might expect, it's not cheap. While a sample 10 search query trial can be used by registering, or a 30-day trial for higher-level subscriptions, you're limited in tool functionality and data you have access to.
Even so, the 10 search limit allows you enough use to get some full keyword results and even export them for KGR evaluation if you like. Moz offers 2 main tool suites: All-in-One Website SEO or SEO-Integrated Business Listings.
We'll cover the website SEO suite here.
View of the Moz Pro dashboard after starting a keyword search. The primary data sets are presented to you after data is pulled from the tool. To view more details, you'll need to click "See all suggestions."
The tool, like others, consists of a number of SEO features accessible from the left-hand side. The keyword research tool presents data in an overview format first before the "see all suggestions" option is used.
Results before changing the keyword suggestion options. I got a whopping 911 results by default, not all of which were highly relevant.
Testing my product/niche keyword, I got a tremendous amount of data from my initial search. As it turns out, quite a few of the keyword terms weren't directly relevant. In order to deal with the large amount of data you'll get, you'll want to select one of the available options from the drop-down menu shown here.
The keyword research tool suggestion options affect the data displayed. You can select results based on how close – or how loosely – related they are to the seed keyword.
After selecting "only include keywords with all of the query terms" my data was as I'd expect from SEMRush or AHRrefs: all terms included the seed keyword phrase in one form or another. This reduced the data list considerably.
Ultimately, data was good and the Moz Pro keyword research tool provided some good data, including a pretty good amount of longtails. However, I did notice it wasn't quite as much as the main competitors in its price range returned.
Oddly enough, you'll only get a few metrics for keywords in the large keyword research list:
Relevancy (how close it is to the seed keyword)
Monthly volume
For most rows, you'll see a magnifying glass icon which when clicked will display additional metrics like difficulty and SERP statistics.
Unfortunately, that means you won't be able to quickly filter out more difficult terms like you can with other tools. While keyword filters are provided, you have to add a separate one for each filter term. Also, you're not able to use multiple comma-separated terms like you can with SEMRush & AHRefs.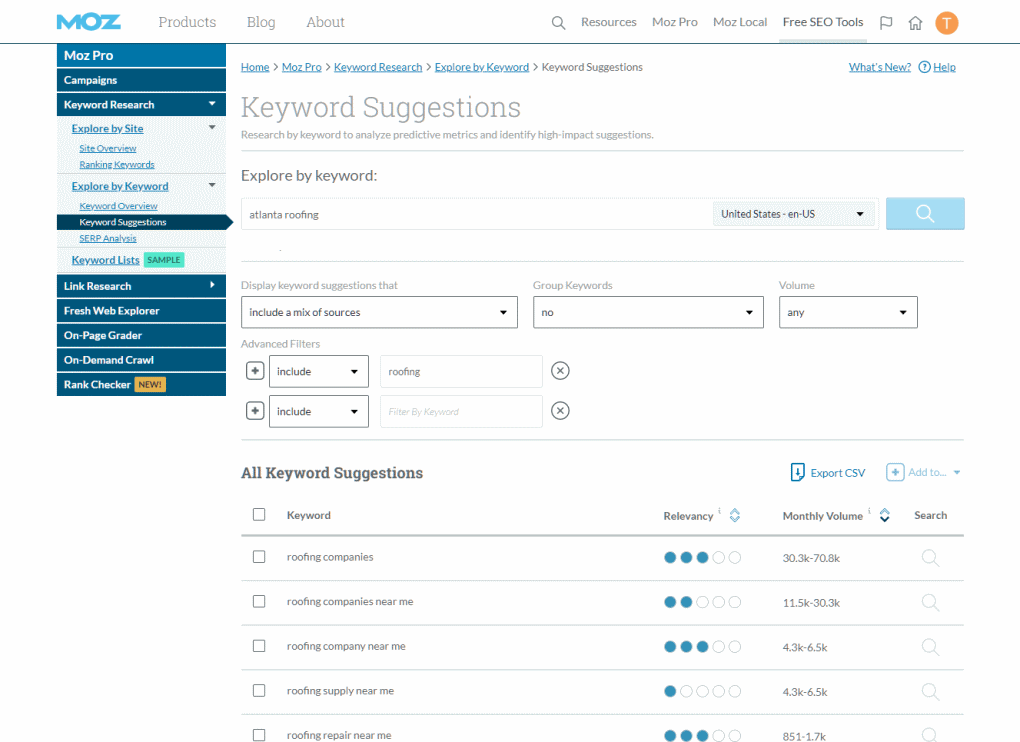 Upon searching for results for my second keyword, "atlanta roofing", I got a similarly huge amount of results (topped out at a 1,000 keyword limit with the default settings) – albeit without any cost-per-click or ad data that's useful for business and paid ad use.
Additionally, many search volume values are ranges and not specific estimates as you'll find with other tools. I will say, however, that I did find a large number of longtail keywords with potential for KGR use.
Ultimately, while the dashboard works well, I find the keyword research tool lacking. I guess I've been spoiled by the data and SERP data easily presented by other tools – including less expensive ones like SERPStat.
In my opinion, this isn't an ideal tool for local SEO/business keyword opportunities unless you've got specific needs it can fill.
SEO features
Moz Pro does offer a host of tools of moderate usefulness:
Site keyword overview/exploration
Ranking keyword finder for sites
SERP analysis
Link research
Web search explorer
On-page SEO grader
Crawl feature
Rank tracker (rank checker)
You can create campaigns for SEO site long-term use. Unfortunately, you won't get the depth of data like you can with the top competitors. While it's just as costly as its competitors, you do have better limitations and won't use up plan credits by exporting data like the others.
Pros:
Several keyword research relevancy options
Lots of potential keyword results
Good longtail results
Filter terms supported
Sorting is easy & fast
Up to 100 rows displayed
SERP analysis provided when selected (separately)
Keyword difficulty score displayed in keyword overview screens
Support for site campaigns
Basic SEO tool suite
Cons:
Lack several keyword metrics in results vs competitors for the same price
Clunky interface – have to return to a keyword overview display for additional data
Keyword search volume is questionable; much data is only ranges and not specific
Default setting returns irrelevant data results
Poor value when compared to rival tools
Limited SEO features vs the competition
Lower all-around ease of use and practical effectiveness vs lower-priced tools like SERPStat
Final thoughts:
While Moz Pro does have a few redeeming features, it comes up far too short when you compare it to top-rated tools like AHRefs and SEMRush which cost the same! I don't get.
It's also rather clunky and far too efficient to use once you've used better tools. In fact, some essential keyword metrics are completely missing from the results page: KD, CPC, and more. Add to that the limited search volume data (why do some keywords only display a range of search volume in a paid tool?) and you end up with a poor value for your money.
However, I got some of the highest data results, relevant or not, when performing keyword research. If you'd like to see if it's right for you have a look at the Moz Pro All-in-One Website SEO tool suite.
8. AHRefs
AHRefs is one of the most highly-regarded SEO and keyword research tools available today along with SEMRush. In fact, some of the affiliate marketing world's top earners use it themselves. It's also often the main tool for SEO agencies, too, thanks to the massive amount of data and tool features it offers.
That being said, in some ways it's overkill if you only need it for keyword research. However, it's also great for finding keyword ideas from the competition as well as finding ways to improve ranking by use of the Content Gap feature.
The Keyword explorer uses a very straightforward and simple interface, but many more options are presented once you've run a search. You can also upload (or copy & paste) bulk keywords to retrieve search volumes then export the data.
As a matter of fact, it's currently my favorite tool as well. The company uses its own huge data pool to provide some of the most accurate search volume data and keyword data money can buy.
I will say, however, that the interface is slightly less user-friendly than some competitors like SEMRush. That's a minor drawback in my opinion, though.
A free 7-day trial is offered for $7, after which your account will auto-subscribe unless canceled.
Results for my reference product keyword search, "cat hammocks." AHRefs returned a huge amount of data and especially longtail keywords as you can see. Note: In order to keep results directly and very closely relevant, I've selected the "Having same terms" display.
For my first product keyword search, as I mentioned in the beginning of this post I got a lot of data! One of the strongest advantages that AHRefs provides for niche site use is the enormous amount of longtail keywords it provides.
I've simply never used a tool that offers so much data, although the other top (and unfortunately most expensive) tools come very close.  Because of the tremendous amount of data you'll get it's critical to filter out unwanted results which helps make your keyword search process much more efficient (to better assist check out how can you improve your keyword search results).
Tip: When dealing with a keyword tool with very large quantities of results, I recommend keeping a filter word list handy. In my experience, there are a number of the most common words you'll want to use to keep or remove results for.
This includes both buyer and informational type keywords.
As you can see, I had 161 closely related results based on identical keyword terms. Other suggested & relevant keywords are available as well, but can greatly increase what you'll need to sort through. Ultimately, it depends on what your needs are at that moment.
I've gotten a significant number of great keyword ideas from AHRefs' "All keyword results", "also rank for", and "Search suggestions" options. Several of these keyword ideas are some of my top-earning posts today!
For local and business-type keyword data, it's great as well and offers very similar metrics as SEMRush does. In fact, they're both some of the top preferred tools for local SEO & business because of it.
As you can see, even focused on matched-term keywords, I got an incredible 1,079 extremely relevant results. When examining your keyword results, clicking the SERP feature on each opens a drop-down examination of the current top 10 ranking sites along with the domain strength & backlink strength.
Using that, you're able to quickly see if a keyword is potentially worth going after even before exporting it.
One of the industry's most accurate keyword difficulty (KD) scores is provided as well.
I find very helpful for quickly filtering out keywords that are too competitive. Cost per click and other ad-related data is provided, too.
Additionally, search volume data is some of the most accurate you can find – although, again, it's still an estimate. In my experience, however, it's been pretty close to what I've observed.
SEO features
As I mentioned earlier, the tool provides a host of other features. This include:
Site SEO audit
Ranking tracking for multiple sites (depends on your subscription level)
Backlink analysis and reporting
Content Explorer – searches the web for relevant content and provides stats for the site or social media source
Content Gap – finds additional keywords from the competition that you're not ranking for
General competition tools – find the top pages, backlinks, and much more for competing & relevant sites
One aspect of the keyword tool I like is that AHRefs display not only the data but also the parent topic – or search intent – for a keyword. This follows today's Google results which are more topic-oriented (based on a more general search query) and not exact-match keyword relevancy.
Pricing & limitations
Unfortunately, it's definitely not cheap, as the Lite plan starts at $99/month. AHRefs uses a credits system which means you're allocated a number of credits per month depending on your plan level.
Data reports, exported data, and other tools use up the credits, so it's possible to run out soon if you're on the Lite plan.
Pros:
Self-provided massive keyword and SEO databases for higher-accuracy and more keyword ideas
Very good SEO tools included
Excellent longtail keyword results generated
Very good search volume estimates
Good tutorials via the AHRefs YouTube channel and support articles
Agency-level keyword, site, and ad features
Very good for suggested keywords (provides new keyword ideas even if not directly matched)
Site project (saved site) features for monitoring site stats & posts rankings
Excellent SERP feature for checking competition during keyword results evaluation
Cons:
Expensive, at almost $100 & up per month
Not the most user-friendly interface
Monthly allocated plan credits are easy to burn through
Beginners may find it overwhelming vs budget tools
The export format is only .CSV, not Excel
Not all longtail results have volume & other data
Final thoughts:
If you can afford it, without question I can say it's simply one of the best. In fact, I credit part of my low-competition & KGR term success to the use of AHRefs for finding great keywords. In a tough (competitive) niche, it's a big advantage that I can find overlooked gems as they're hard to come by.
The SEO tools are simply some of the best and the keyword accuracy has been rated one of the best multiple times. The amount of keyword data you'll get is wonderful – just that you'll have to filter heavily because there's so much.
It's a great option when you're ready to take your keyword research to the next level! Have a look now and find out why AHRefs is one of the industry's most powerful tools today.

Which tools are the best? Our top picks
When it comes to the best free (or paid) tools for your money and time, it's important to think of how efficient they are, how good the keyword results are, and realistically which will help you to succeed and earn more money!
The best free keyword research tool
As I mentioned at the beginning of this post, there just aren't many options at all anymore, so it's surprising to find a tool that's actually free and worthwhile.
Ubersuggest is the best free tool for KW research.
It's well-done, and despite its limitations, you can move through lots of keywords relatively quickly.
However, if you need more results, the free keyword tool from The Hoth is a great option. Plus, you can order services, like guest posting.
The best paid tools
(In order from the best and most expensive to the most affordable).
One important point to consider is that while you may think you're saving money by not using paid tools, you're actually costing yourself both time and money.
That's because good tools pay for themselves several times over.
Effective tools deliver good keywords, and good keywords allow you to generate earnings.
1. Best paid tools with a free trial: SEMRush and Ahrefs (close tie)
Without question, these are simply two of the best tools you can find today. The keyword data for both is excellent, and for great longtail keyword & KGR opportunities, you'd be hard-pressed to find a better tool.
Ultimately it's a matter of which you prefer: For ease of use and an intuitive interface, SEMRush is the tool of choice for many of today's most successful marketers.
However, if you're a data-driven person and prefer getting as many keyword results as possible (like me!), Ahrefs is an excellent choice and the backlink database is the best around.
Both aren't cheap tools but are agency-level and fantastic for finding low-competition gems even in a competitive niche.
2. Best midrange-priced tool: SERPStat
SERPStat isn't just less expensive – it offers good keyword data, metrics, and SEO features at a price that's not budget but not expensive either.
If you're ready for a moderately priced tool that's slick, has a smart interface reminiscent of higher-end tools like SEMRush and Ahrefs, and that delivers great keyword data (and nearly all the metrics you could want) it's a great option.
3. Best lower-priced tool: KWFinder
KWFinder was – and still is – one of the best affordable tools out there with constant improvement.
Not only can you easily find highly relevant keywords but also quickly check SERP competition and keyword difficulty at a glance.
  SAVE 10% by using my promo code, "nichesiteproject".  
Mangools improved the tool and simplified plans, for the same money, you'll also get access to a host of other SEO-related tools.