This Month in a Nutshell
First and foremost, to anybody who is reading this, who may have been affected by the May algorithm updates, I sincerely hope it corrects itself and bounces back – particularly if you only had the one site and had put all your efforts into it, only to have it taken away from you.
This update seems to have been especially hard on those in the health, finance, and legal industries (YMYL) – but has also hit industries like food and pets. Many sites have been around for a couple of years and have tons of great content but have seen massive drops in traffic.
Some have been AI-written or AI-assisted, and others have been completely human-written and outsourced – so it appears as though anything goes!
This can happen to anybody. And while I am grateful that I am not here reporting my devastating dips in traffic, it has certainly put a lot into perspective for me and how I do things going forwards!
Maybe the update was random, and Big G is simply tweaking it to see how people react. Or, maybe it is tactical, and there are patterns Big G looks for – whatever the case, see this as an opportunity to go in and reinforce any areas you know are weak in your sites.
Or, do absolutely nothing as that may work, too!
But I will stop rambling on and get into what has happened with my two projects this month pre and post-update. At the end of this post, I will detail some of the things I will be doing on the sites myself to make them more G-Bomb proof!
Results Snapshot (Site 2)
Earnings 
This Month: $782.82
Affiliate Program 1: $342.89

Awin/ShareASale/Pepperjam/Impact: $19.25

Ezoic: $ 270.63

Mediation Ad Partners: $11.46

Ezoic Premium: $88.23

Amazon: $23.40

Digital Products: $26.96
January 2022 – May 2022 Ezoic Earnings

My visits are up month on month, but sadly the earnings do not mirror them due to the decline in my EPMV. Towards the end of the month, I deactivated the Ezoic plugin whilst I was trying to optimize my site speed, and with that, my mediation earnings went away. Anyhow, they seem to have shifted back over to the standard Ad Partners.
Expenses
This Month: $2320.50
Expenses include:
Ezoic Premium
Content
Custom Plugin & CSS
Virtual Assistant
Hosting
AI Writer
I spent way more than usual this month yet have uploaded less content; however, there were some one-off fees as I had a plugin and some shortcodes made, which I will reveal in time.
Traffic
Google Analytics Snapshot of Site 2 For The Month of May 2022
Pageviews This Month: 32,986 (vs. 21,489 last month)
Lifetime: 81,332
Sessions This Month: 11,382 (vs. 10,046 last month)
Lifetime: 60,476
I also suspect the rise in mobile traffic ties into the decline of my EPMV.
Two days after the G-Bomb hit, I thought my site was impacted, but it turns out it was a normal weekend dip, and shortly after, it hit some all-time highs. This is more than likely a result of all of the content I have put up recently starting to mature. However, the update may have played a role in some way.
I have not checked to see if I still have any of my snippets (if I had any, to begin with), but I have not specifically targeted snippets on this site.
Activities & Accomplishments
I have crossed over into Level 3 of Ezoic's Level Up Program as my account passed the 50,000 visit threshold.
Up until March 2022, the site had a total of 70 articles on it.
In March 2022, I added 30 articles.
In April 2022, I added 47 articles
In May 2022, I added 28 articles
I have only two writers working on the site at the moment, and my main writer got very ill this month and had to slow down, so we only managed to publish 28 articles. The total word count on the site is now 287,996. 
What Is Working
Traffic Is Up
The new articles I have added over the past three months are all indexing and starting to rank well as the traffic continues to rise.
Affiliate Link Sign Ups
I recently went into some of my affiliate-focused articles and started optimizing them a bit more aggressively. Instead of promoting multiple products, in some cases, I took the additional options out and left one option.
I have also started to optimize the CTA buttons and text more aggressively. I.e. larger text and CTA statements, changing the CTA button color so that it doesn't blend in with the site's theme.
My main affiliate programs have seen more clicks and sign-ups this month as a result which suggests I should make the same adjustments on other posts.
My Workflow
My virtual assistant has proven to be a huge asset! She just gets on with it, adding new articles from my spreadsheet, adding images and the featured images using my Canva templates. This has meant that, despite having a hectic personal life – in the midst of moving home and mothering, things have remained on track.
I will spend an hour or so in the coming weeks with some more training videos to teach my VA more about internal linking and, more specifically, using Link Whisper properly.
Internal Linking
Interlinks are the steroids I have used on this site since its inception, and they prove to be effective. Users come to the site and click over to other articles. This is something I can use to my advantage a bit more when I start building out topical clusters based the best-earning articles.
What's Not Working
Advertisers Don't Like My New Articles…
New articles are bringing down my EPMV for whatever reason. I am trying to write more content based on the most successful content on the site, using BDA (Big Data Analytics).
I have sourced keywords around some of these topics and added them to the spreadsheet for my writer to pick up, so they have been commissioned but not yet written.
It will be interesting to see if they adopt a similar EPMV or not. If they do, then I will continue to build those topic clusters out.
Results Snapshot (Site 7)
Earnings 
This Month: $212.32
Affiliate Program 1: $0

Awin/ShareASale/Pepperjam/Impact: $0

Ezoic: $ 57.88

Mediation Ad Partners: $2.13

Ezoic Premium: $18.76

Amazon: $133.55

Digital Products: $0
Last month I managed to get my first commission for the main affiliate program promoted on this site. However, despite the many clicks, I had no conversions this month. The affiliate program offers a 20% commission, and the average cost of the product is $250-400.
I am hoping those sales start to pick up as the clicks have been increasing quite a bit recently. I also have not sold any digital products in a while – with those, I only really expect to sell the odd few through the year and then a bunch in November and December; in any case as although the niche is not seasonal, some of the digital products are.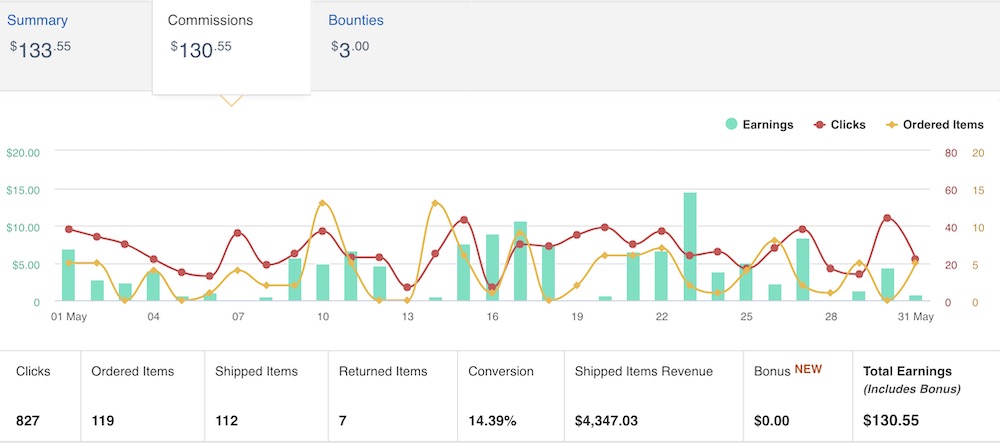 Again, the bulk of the site's income is coming from Amazon Affiliates. I have not added any new buyer intent articles or done anything to the site so I do not expect this to change drastically any time soon. However, as the traffic increases, we may see these numbers increase naturally.
I think I have said all there is to say about this EPMV…sigh.

Something I had not considered when I started this site was that it would be mostly mobile traffic. In hindsight, it makes sense. People in this niche are not typically sitting at a desk reading information; they want to see images and videos, which means I will need to update my content and possibly focus more attention on social media.
Observations &

Parting Thoughts
Here is what the rest of my sites are looking like after the update:
With reinforcing my site and brand building in mind, these are some things I am going to be concentrating on going forwards:
Mailing Lists and Evergreen Customer Journey Newsletters.
Mailing lists stand the test of time and are probably the only thing that shields you against algorithm updates – a list of people who want to hear from you (hopefully). 
You're not accountable to anyone except your audience. No algorithms can take that away from you. And, if you create an evergreen customer journey newsletter, you can keep your audience engaged indefinitely.
I experienced an income-shattering "update" a few years back on Instagram. Still, I had unintentionally collected over 9,000 email addresses – I had no idea this was a currency and that although I lost 260,000 followers, I didn't lose it all!
Brand Building Using Social Media
While social media is a distraction in many cases, some platforms favor one niche or another. I have noticed this already with my sites. For example, there is a huge, active community for Site 7 on Tin Tok, Pinterest, and Instagram. Whereas Site 2 does better on Youtube, Reddit, and possibly Twitter.
Site 7 is mobile-focused, and Site 2 is more desktop-oriented (which explains the higher EPMV, maybe?)
So, it wouldn't benefit me trying to build a brand across ALL social media platforms – only the ones where it makes the most sense to do so.
Reddit is great if you have a long-form content strategy, as is Quora if you plan on being helpful and answering people's queries. However, as I am trying to do that already with my site, it is better if I focus on Youtube and Twitter!
It will also be easy for me to make content for Youtube and repurpose those into Tweets!
All of this will be in an effort to build a recognizable brand in the niche and up those repeat visits, as well as create a space that people want to sign up and hear from as opposed to grabbing their Google query and going.
More Info-Graphics, More Images
The average word length of articles on Site 2 is 1500-2500, so even with paragraphs broken up for readability, text still needs to be broken up with images and other things like bullet points where possible.
There is ample opportunity to create infographics, and my VA is well-versed in the art of Canva, so I will have her go through the articles and determine what can and should be made into an infographic.
I do not want to spend too much time on this personally, and it will not make or break traffic, so I am happy for her to make these decisions.
It may, however, make the content more shareable, so I will try to monitor this.
Less Ugly Links, More Pretty Links
Ugly links? Pretty Links?
All of my sites have Pretty Links installed. IF Google doesn't like affiliate links, maybe it thinks my sites are not a threat because most of the affiliate links on my site look like this >> https://mysite.com/affiliate.
My sites count these as internal links, so maybe Google doesn't immediately detect the redirect? I don't know enough about that to know for sure, but that is something I have noticed across my sites. 
It also makes it harder for any crawlers or competitors to scope my affiliate programs and links easily. However, I have just started trialing Affilimate and I think it makes it difficult for it to track these links, too, so I will need to look over my site and optimize.