I'm starting a new case study in 2021. Here's the idea…
Goal
Do work on a neglected site to grow revenue.
I can set some goals for traffic or revenue goals, but I like to set up a system goal. I can control executing a plan and implementing a system. Doing the work and implementing the system are the leading indicators.
I can't control the traffic and revenue. Those are lagging indicators with external variables.
Leading indicators are considered to point toward future events.
Lagging indicators are seen as confirming a pattern that is in progress. (ref: investopedia.)
Earn More Money
This is the lagging indicator goal. The sexy one.
5X the revenue. That's tall order but considering the amount of work that will be done, it's in the realm of possibility.
In fact, the earnings are modest so huge percentage increases in revenue are possible. I wouldn't be surprised if there was an 8X to 10X increase in the earnings.
More Content, More Backlinks
This is the leading indicator goal. The less sexy goal.
Publish about 320k words of content in about 139 articles in 12 months.
Most posts will be about 2,300 words long. I'll explain the plan below.
Bottomline: If the site earns more money, I'll be happy.
Background of the Site
I bought a site from a student of mine. She was one of the first success stories from my Five Figure Niche Site course (now retired – check out Multi Profit Site instead).
My student wanted to focus on her larger site since it was growing faster and is a topic area that she is more interested in.
She started the site in March 2015 as one of her first sites. The site has had ups and downs over the years.
It was making about $150 per month in 2019. It usually earns a lot more in the retail season, November and December, each year.
I know how to grow sites and I made an offer on the site of $4,000. It's a direct sale and there was a great deal of trust between the seller and me.
So I paid monthly multiple of about 26.6 which is about average.
(Monthly Profit of $150) x 26.6 = $4,000
Since it was a direct sale, we didn't have to pay broker fees (normally, 10%-15%) or escrow fees.
Here are some other details about the site when I bought it:
There were only about 10 links, all natural and organic. No link building had been done.
The Domain Rating was about 8.
There were about 26 articles.

6 informational
20 product reviews
I bought the site at the end of 2019. I added 8 new articles in May through June of 2019. I meant to add that content sooner, like right at the beginning of the year.
I also improved the existing content using the ideas in Site Growth Plan.
Fix grammar issues.
Add FAQs to each post.
Add internal links to and from each post.
Replace old or out of stock products.
Traffic was up by about 40% from 2019 to 2020.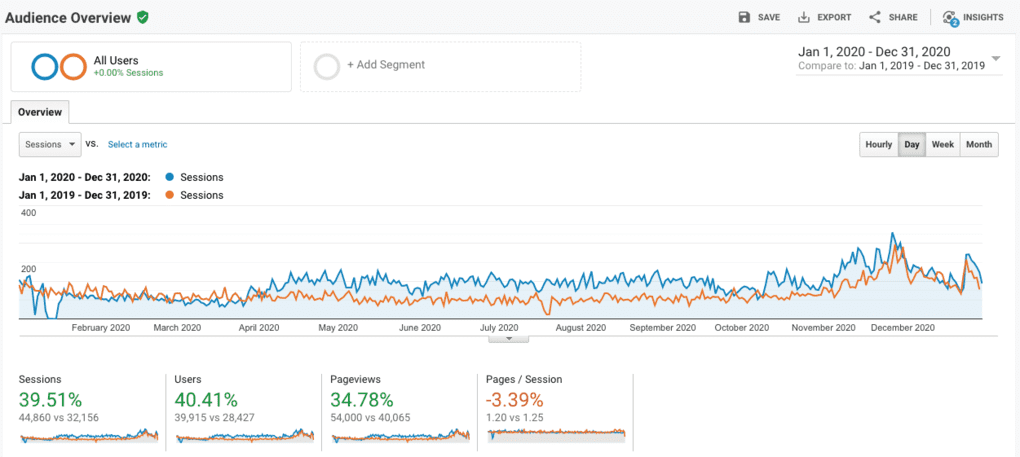 Earnings went up as well, but the Amazon commission rate change in April 2020 hurt the earnings for most of the year.
There are 34 total articles on the site and about 60,000 words after I added to the site in 2020.
Here are the baseline earnings and traffic, plus some historical visitor analytics.
Baseline Analytics and Earnings
The site earned $2,600 in 2020.
There were about 3,300 monthly visitors in 2020. That's about 109 visitors per day.
That's about $0.065 per visitor.
In 2019, here's the same data:
~ $1,600
2368 visitors/month
77 visitors/day
$0.056 per visitor.
Overall Plan
I'm working with Brand Builders to execute the system of publish more content and promoting the site.
In 2021, we'll be publishing about 321,000 more words in about 139 articles. It'll start with a BANG in January.
57,000 words of new content will be published. Then, each month 24,000 new words will be posted.
We'll target low competition keywords — some Keyword Golden Ratio terms — but we'll also go outside the KGR constraints.
The site is well out of the sandbox, so I think we'll be able to rank more competitive keywords and higher search volumes.
Month 0 – Getting Started
I started working with Brady for the kick of the project. He came to me with the idea and it sounded interesting but I wasn't quite sure about all the details.
I say no to most ideas since I tend to take on more projects than I should. This one seemed perfect since I wanted to do more with the site but haven't made it a priority.
I told Brady to come back with a specific set of objectives and deliverables. That's where we arrived at the initial and monthly content goals.
Initially, we were planning on about 10 new links in the first month, and a couple each following month. I'm not 100% of the current plan for link building, but I'm less concerned about that in the short term.
My right hand man is Amel — the COO at Brand Builders. He sent over an SEO Analysis and Report. He ran a site audit on ahrefs so there are several things to fix.
The current "Health Score" is 61 on ahrefs and here are the things that need to be fixed:
Some of the top issues that need to be fixed are:
Meta description tag missing or empty (48)
Orphan page (has no incoming internal links) (9)
Page has nofollow and dofollow incoming internal links (6)
404 page  (3)
Page has links to broken page
By fixing these, the Health score will increase and hopefully so will the rankings.
I've long held that the Meta Desc doesn't matter since Google pulls whatever they want from a webpage anyway. I guess we'll see if that's the case.
I approved the work on the five bullet points above so Amel's team will fix the issues.
We are holding off on building links until the SEO issues are fixed. So link building will start up in Month 2.
Have Questions or Thoughts?
Please let me know shoot me an email – feedback @ doug.show.
Shout out to Brand Builders for helping me on this project!
Check out some of their offerings here, including done for you sites, content, and link building.