It has been well established that a product comparison table boosts conversions.
Especially for niche sites. (Just getting started? Read up on how to build Amazon Affiliate Sites.)
You can ignore any speculation on my part, and look to major corporations.
Amazon, for example…
Search for a major product line in Amazon, like HD TVs, DSLRs, etc…
You will see a table like this:
Amazon definitely knows how to optimize for conversions.
Let's look at a few things…
"Old School" Plugins – TablePress and Websimon
The "New School" Table Plugin –

Azon Tables

Dynamic Tables – Drag and Drop
Your Choices (with alternatives)
"Old School" Table Plugins (for WordPress)
I learned a bunch from Spencer Haws and Perrin at Niche Pursuits. In both of the niche site projects that they conducted, a large product table was a key component of the success.
TablePress
Spencer used the old plugin called TablePress, and talked about it at length here. That link takes you to a full, how-to post discussing tables for niche sites.
The good part is that TablePress is super simple to use and setup. It is also free.
My main gripe with TablePress is that it looks like an old HTML implementation of a table. The styling looks basic to me. If you're good at CSS, then you can most likely make the table look great.
And if you good at CSS, you already knew that! I don't know CSS so I am stuck with the default style.
Websimon Tables
Later, Perrin told me about a nicer looking plugin called, Websimon. I used it on a few sites and I really do like the way it displays.
Unfortunately, it looks like the plugin isn't supported anymore and is a bit of a security risk.
But it does look great…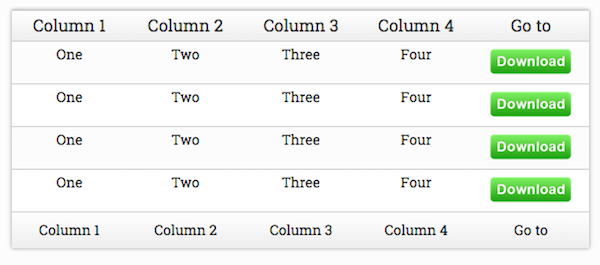 Azon Tables
I am an affiliate for Azon Tables so I will get a commission if you purchase the plugin. And, if you do, I really appreciate the support!
Azon Tables is a new plugin on the market by a rather unknown web developer that goes by Alchemy Coder. He reached out to me with a free copy of the plugin – confident I would feel it was good enough to add to my best product comparison table for wordpress post here.
And it's great — easy to set up and use. The basic steps are …
Step 1 – Install the Azon Tables Plugin and activate it
Step 2 – Save your Amazon API Credentials
Step 3 – Choose your columns
Step 4 – Search Amazon in your WP Dashboard, and insert your chosen products
Step 5 – Embed yout comparison table with the shortcode in any page or post
Step 6 – (Optional) Adjust the settings and styles
Following that outline you'll have some Amazon API driven product comparison tables on your site in no time, and hopefully you'll see an increase in your conversions right away.
Azon Tables WordPress Plugin Features
The plugin solves most of the issues that people cite for plugin features.
Connects to the Amazon API
Amazon Associate Operating Agreement Compliant
Auto-Updating Prices
Amazon Compliant Product Images
Create Unlimited Product Comparison Tables
Use on Unlimited Websites
Lots of Table Settings

Column Sorting
Table Searching / Filtering
Pagination of Results
Responsive Column Visibility Toggles
Tables Utilize Browser Memory

Add Affiliate link covering any table cell of data
Search Amazon Right within your WP Dashboard
Works with Any WordPress Theme
Azon Tables Looks & Works Great on ALL Screen Sizes
As more and more of your website traffic is coming from mobile devices such as smartphones and tablets, you'll be glad you built your comparison tables with Azon Tables.
Azon Tables responsive settings are like no other plugin I've seen before. These comparison table are fully mobile optimized.
The main way that Azon Tables makes your tables display perfectly on all screen sizes, is by hiding certain columns on certain screen sizes. You can create as many columns of data specifications as you would like, then hide columns of your choosing for various screen sizes. The hidden information can then be toggled open and closed spo the visitor does not lose any important information.
Example of an Azon Table
Here is a product comparison table built with Azon Tables and all information below was pulled automatically with the Amazon API. The prices are auto-updating, the images are compliant, the columns are sortable, the "features" are displayed or hidden by clicking the blue plus or minus, it is searchable, filterable, and has multiple pages of results.
Azon Tables Conclusion
If you are an Amazon Associate and looking to add Amazon Compliant product comparison tables to your WordPress sites, then Azon Tables is well worth the money. Once you build a table or two, you'll be cranking them out fast and increasing your conversions.
They are great looking and will definitely add to the slickness of your affiliate sites. There is also a 30 day money back guarantee so you have nothing to lose.
Check it out here via my affiliate link.
Conclusion and Alternatives
We can all agree that tables that compare products have a positive impact to conversions.
People can see critical information faster.
People can compare various products more easily.
People will linger on your site longer in many cases.
Here are your main options
If you have the resources, check out Azon Tables.
If you have limited resources, use the TablePress plugin. It is free and simple to use. Any table is better than not having one.
THIS IS WHAT I DO, currently. If you want another option, like if you tried TablePress and thought the interface was bad, you can use old, yet FAST HTML. Go to an HTML table generator and build one by hand. It is just as easy to use as TablePress and it will be less load on you website. (Having fewer plugins on you WP installation is a good thing.)