If you are looking to increase the traffic to your Amazon affiliate websites and your search rankings, then investigate your Bounce Rate in Google Analytics.
That's why I was looking at the bounce rate for my niche site. I have been refocused on my niche site after being laid off last month.
Things have been going well…and we've seen:
But the bounce rate was over 80% across the entire site, so I want to improve that. I made some changes and have seen a great improvement of about 7% overall.
I still have some work to do on the bounce rate, but I will explain how I got the 7%. It is also important to note that the specific page improved by 13%.
What is the Bounce Rate?
It's a term out of Google Analytics so I went to the source:
Google. (Read it yourself right here.)
So, the user gets to your site and then does NOT go to any other page. The 3 main reasons are:
The person found what they are looking for.
The person didn't like your site for some reason, like an annoying popup window or a design issue.
The person didn't have an interest in reading other pages on your site.
What is a Good Bounce Rate?
No one knows. There isn't a hard and fast rule because it depends on the goal of the web page.
If a searcher is looking for bit of information, like the current weather, then a high bounce rate is expected.
A "good" bounce rate depends on the goal of the page…so you can't just apply a percentage without considering the goal.
Sometimes a user is expected to bounce to some other web site.
In this particular case, I know that my previous Amazon Affiliate sites had a bounce rate of  about 69% when they were ranking very well. With my current niche site project at 80+%, I knew there was work to do.
It is important to look at individual pages to understand what the goal of that page is.
Step-by-Step
There are many, many ways to reduce the bounce rate. Here is what I did and it's super simple.
It literally took me 20 minutes.
That's it. (Now, it may not work for everyone, so I offer a few alternatives later in this post.)
Find the pages driving the most traffic.
Look for a page (or more) that have a large amount of content.
Break the content up into 2 or more pages or posts.
Add links at the top and bottom to allow the user to navigate to the other pages.
Get to the Google Search Console and make sure the new pages are indexed (should take about a minute).
The Inspiration
A person that I am coaching mentioned to me that one of his web sites uses this technique. I thought about it later and how it may be able to help out my site.
It's no big secret…viral sites do this all the time…
"21 Pictures Of Dogs That Make You Want To Visit National Parks"
And, then you have to click through 21 pages, but it's worth it because it's funny and inspiring. (That's a fake headline just so I can show this picture of Brodie at Old Faithful at Yellowstone National Park.)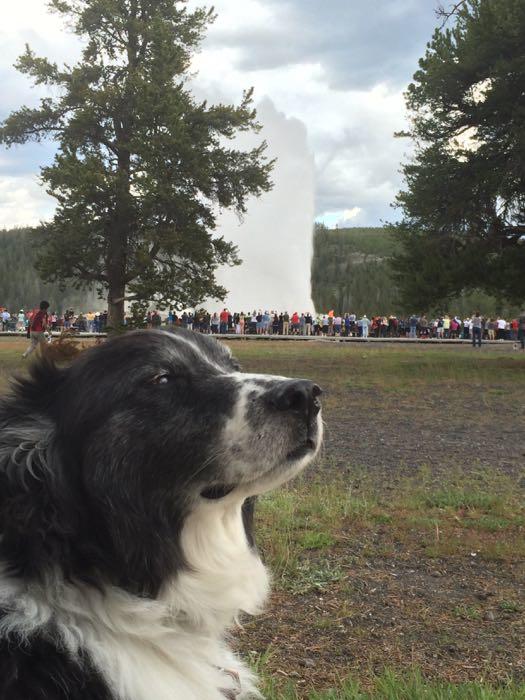 Watch Out For These Things
The technique that I used may not work for every website.
Making such a change could have negative impacts…
Rankings
This specific technique may not work if you don't want to interfere with rankings. So, if your page is ranking on page 1, that is #1 to #10, then you shouldn't go messing up a good thing. The only time I would advise that is if you have tried everything already.
Be careful not to hurt your rankings by changing the content…
Consider any page your own site…All the content on the current page is contributing to the rankings. If you change that content, then you might hurt the rankings.
It worked for me because this particular page on my site is LONG. It was about 10,000 words.
I didn't realize it was getting that long – it was a page that I kept adding to over time.
The Current Word Count
Let's say your page is ranking on page 10 and you have nothing to lose. Well, you should make sure you aren't going too far in reducing the word count on the pages.
Reserve this technique for longer content…Don't go below 500 words as a rule of thumb.
I would not divide up pages to anything under 500 words a piece. Technically, you only need the user to view more than 1 page and that's it.
It is generally accepted that longer content ranks better and gets more social shares. So, be mindful of those things when you reduce the length of pages.
Other Techniques To Reduce Bounce Rate
Here are several ideas to encourage visitors to go to other pages on your site.
Add more links throughout the text on your site. (See the links that I added at the beginning of this article…) If you have links through all of your content, there is a good chance some users will read other posts.
Add links to great content to your sidebar. It's the same idea here, of course. Get people to click to other pages.
Ensure that your site's user interface is usable. If an annoying pop-up is the first thing that your user sees, then you may be losing a potential reader fast. Again, review your goals for the page since you may not care for certain pages.
Target the right kind of traffic for the page. You need to review what keywords you are targeting for a specific page. When you get the right kind of traffic, the visitor will be more likely to read more on your site.
Conclusion
I was able to make a significant improvement on the overall site bounce rate by breaking up the content from 1 page into many pages.
Overall the bounce rate fell by 7%.
The individual page bounce rate fell by 13%
The traffic to the site overall remained stable.
The rankings for the page remained stable.
Be sure to understand the goal of a page before deciding if the bounce rate is bad. If you want to capture an email on a landing page, then a high bounce rate is expected.
If your page is long and the bounce rate is higher than you would like, then take a look at the time on the page. It might be that the visitor is very interested in the content and finds the answer they are looking for.
What do you think??
How important is the bounce rate? Do you have any ninja techniques to make the bounce rate drop??
Further Reading