Christy has been crushing it with her Niche Site after working through the Multi Profit Site course — estimated value of her site is $45,000 at $1,500/month after 13 months.
In this post, she outlines 8 out-of-the-box ideas for outreach and networking that will land you epic backlinks that your competitors are too lazy to get.
The biggest factor impacting your success as a niche marketer is traffic — pure and simple.
Yet, getting Google to send you all that yummy organic traffic, especially in year one, can feel like pushing a virtual boulder uphill. 
Competitors' sites have more domain authority, followers, and aged content.
How are you supposed to compete?
Targeting Keyword Golden Ratio keywords is step one. (Learn more about that here.)
Once you have some KGR cooking, though, resist the urge to wait around and pray to the Google gods. (Though it can't hurt, I suppose.)
This is the time to get creative about generating your own traffic — and it starts with outreach.
Time to Play Offense
Outreach simply means switching from defense to offense. 
Traditional outreach includes things like:
Asking other bloggers for backlinks
These are all good ideas and things to consider. That said, there are some out-of-the-box outreach ideas that may help you get traffic faster.
Out-of-the-Box Outreach Ideas
In this blog, I discuss 6 unusual outreach initiatives that I tried for my new niche site and how they collectively drove ~10% of my year-one traffic.
Quick disclaimer: Implementation timing varies. I started some initiatives within weeks of launch, and others were added later. They don't all have "equal baking time."
1. Social Influencer Series
In a Nutshell:
Depending on your niche, there are likely quite a few relevant vloggers, podcasters, and bloggers. They have established followings on social media, iTunes, and YouTube, and they're trusted sources for your target audience.
When one of my favorite vloggers launched a GoFundMe campaign for an upcoming event, I got an idea…
I reached out with a personal email about watching her journey for years (true) and wanting to support her fundraiser (also true). Then I offered to donate if she wrote 10 guest blog posts for my site — including backlinks/social posts for each one.
What Happened:
She said yes right away and was grateful for the opportunity!
I provided a list of 15-20 KGR-compliant blog topics that aligned with her unique experience and interests. <<< THIS IS KEY.
She wrote 10 blogs, promoted them on social media, and posted "blog teasers" with links from her website to the full articles on mine.
One of the blog posts was a roundup-style piece that included commentary from two other influencers in my niche. (Now it'll be easier to engage them again!)
Mid-way through the series, I tried a similar formula with a second vlogger. She had posted a video about a life-changing experience. I sent a personal note about her journey and offered her a guest article so she could better process what had happened and provide her followers with additional context. She said yes right away, and it turned into two great articles! (Read more in section #6.)
Lessons Learned: 
Turn your "ask" into an offer: Reaching out cold and clearly trying to trade on other people's influence is a fast track to rejection. Instead, look for opportunities to add value or solve a problem for the influencer.
Vloggers don't get asked to write: Many vloggers, no matter how popular, have never been asked to WRITE an article. This means they a) are often flattered, b) get a break from video, and c) may submit articles that require a lot of copy editing on your part. #stillworthitthough
Keep it easy: Show people how low-stress it is to work with you. Handle all the logistics, send reminders, stay flexible about deadlines, and help writers look like rock stars.
Leave nothing to chance: I always provide a Google Doc outline with the H1, H2, and key section headers in place. If I want the writer to address a few FAQs, I list those, too. This ensures every guest post also helps me rank for relevant keywords. (See article B in the next chart as an example.)
Get those backlinks: Not all influencers, especially vloggers, have websites. If they do, make teaser blog posts and backlinks to your site part of the deal up front. A short 100-200 word teaser that links to the article on your site is plenty.
Keep the momentum going: Influencers know other influencers. If you can get a few of them to write for your site, it's much easier to approach others in the future. You have social proof that you're worth talking to because [insert name] wrote for you already.
Worth Doing or Not:
HECK YES!
I have zero regrets about this outreach strategy, and I plan to do a lot more of it in the future.
This 10-post series has generated just shy of 14,000 page views to date. 
The series also accounts for 1,045 hours of time on site. This boosts my domain authority with Google and helps my affiliate and ad revenue.
Note: The oldest post (A) is 11 months old, and the youngest (J) is 3 months old.
2. College Series 
In a Nutshell:
Backlinks from .EDU websites are liquid gold in the domain authority world. Of course, that means they're usually super hard to get.
Many colleges have special interest teams or clubs related to my niche. My idea was to reach out to 50 colleges from 50 states and publish advice-style features about their students.
I'd planned to start with the coaches, have them nominate deserving students, then send students a message asking them to complete a Google Form questionnaire.
I would then publish the piece and encourage the school to share it on social and link to it from their club/team landing page.
What Happened:
Almost immediately, I had to modify the 50/50 idea. I struck out finding clubs for several states entirely, so I adjusted my messaging to be a series "across the U.S."
I created a spreadsheet target list of 69 schools with coach contact information.
We got 20 students to complete our questionnaire (i.e. published 20 blog posts).
Lessons Learned:
Be careful with money: Initially, I said a few small scholarships would be awarded to the best students. Little did I realize that some college team members aren't allowed to accept "gifts" of any kind — so they couldn't participate. Oops!
Campaigns are a lot of work: This program required a ton of administrative time to plan and execute. Be prepared to do it yourself or outsource.
Getting .EDU links is STILL hard: Unfortunately, I haven't gotten any of the clubs to actually follow through and add links to their pages. It turns out college coaches aren't the most responsive people on earth, and many of them probably have no idea who set up their sites in the first place.
Pause and reengage: I'm not done trying to get those backlinks though! It's been ~6 months since I published the profiles, and I plan to circle back again with coaches and students in early 2020. I've toyed with creating custom infographics about each team and using that as a reason to reengage, encourage them to feature graphics on their sites, and link back to the student blog profiles on my site.
MAYBE
I don't regret doing this program, but I probably should have waited until year two to tackle it. If I do another round of outreach to college in 2020, I'd definitely make some adjustments.
This college profile series has generated nearly 3,000 page views to date.
It's also resulted in 164 hours of time on site.
The next chart illustrates lifetime page views in order of most to least.
3. College Guest Posts
In a Nutshell:
Once I realized that my primary goal of getting lots of .EDU backlinks might have been unrealistic, I shifted focus to generating more traffic from the students who did participate.
My idea was to combine our "your profile is now live!" email with an invitation to write another guest article for the site.
I provided a list of 3-5 relevant topics (that were KGR compliant).
Though articles weren't paid, I mentioned that this would be a nice addition to their résumés.
What Happened:
I made this offer to all 20 students who participated.
It has resulted in 4 additional guest posts with another 2 on the way.
Lessons Learned:
Kids will be kids: Several students committed to doing additional posts… but never actually wrote them. If I'm ever short on content, I could reach out to them again and reengage.
Get ready to edit: Unless students happen to be journalism majors, it's likely that the rough drafts you get back will be… rough. Be ready to spend a fair amount of time polishing content before publication.
It's still fun: Despite all the work and time involved, it was really fun to see students get excited about writing for the site. It also feels good to know we might end up on their résumés when they graduate!
Worth Doing or Not:
MAYBE
If you have the time to invest in managing young writers and editing their work, this could be worth it in the long run.
The 4 additional student guest posts have generated 1,792 page views to date. 
These posts have resulted in 137 hours of time on site.
4. Open Letter Series
In a Nutshell:
I decided to create a themed open letter series for my blog.
My grand plan was to make this a point of conversation for outreach to vloggers, bloggers, and podcasters in my niche.
What Happened:
Not much… this fell down on my priority list, and I've put virtually no effort into this so far.
I've published 3 open letter blog posts.
Lessons Learned:
Don't bite off more than you can chew: Focus on 1-2 outreach initiatives at a time.
Great ideas aren't enough: I still believe in this idea, and I want to circle back to it in the future. But it's clear that throwing a good idea onto your website and letting it sit there won't help it gain traction.
Worth Doing or Not:
NOT UNLESS YOU DO IT WELL
Ideas like this require a lot of personal outreach to niche influencers, which I didn't have time to do this year. I may revisit this project in 2020.
So far, 3 open letters have generated 508 page views and 39 hours of time on site.
5. Media Guide
In a Nutshell:
Given how much I enjoy learning from the vloggers and podcasters within my niche, I decided to create a virtual "media guide" with recommendations for my audience.
Each profile includes a summary of the influencer, key players, 10 reasons to subscribe, and a playlist of my favorite 5 episodes/vlogs. Then I link out to the media source.
What Happened:
I created 13 media profiles.
I'm working my way through additional influencers on my wish list as I get time.
Lessons Learned:
No reason not to do it: Creating a virtual media guide is a fairly low-risk, low-impact commitment.
Make a template: Decide how each media page will be organized, then use that structure every single time. It's faster and creates consistency for readers.
Warm up your outreach: Though I haven't done much outreach to the media influencers thus far, I have these resources in my back pocket for 2020. It'll be a much warmer introduction when I share what I've created to support their efforts before asking them to contribute in some way to my site.
Look for unicorns: I didn't expect to rank much for these pages, but one prominent vlogger's profile has already generated more than 2,200 views. I've been on page 1 or 2 of SERP results for his name over several months. Given that, I recently created an entire blog post about this person to help capture more of the search traffic for his name.
Worth Doing or Not:
YES
I feel confident my work will pay off in future outreach, and the media guide is valuable to my audience long-term.
It was also really fun to discover a unicorn term in the bunch!
Note: Pages have been added over several months, so they're aging on different schedules.
The media guide content has generated 3,007 page views to date. 
It's also resulted in 170 hours of time on site.
The chart below reflects the page views generated from each profile. It's obvious which one turned out to be a unicorn!
6. Media Guide Influenced
In a Nutshell:
When you start doing unusual outreach, you may be surprised how much crossover engagement your efforts generate.
I was able to engage another big-name vlogger by sharing the media guide page about her vlog and touting the original influencer's blog series.
What Happened:
She wrote 2 guest blog posts.
She shared her posts on social media and her vlog.
She participated in a roundup post for another writer.
Lessons Learned:
Be authentic: Take time to craft every outreach message well, and make it personal. Make it clear that you're a true fan, know what's going on with the influencer lately, and share how their content has impacted you.
Give before you request: Share something of value that you've created to help drive new followers to their channel/brand (e.g. infographic, playlist).
Just do it: People can always say no, but it never hurts to ask.
Worth Doing or Not:
YES
Every time you invest time and/or money into a project, squeeze every drop of juice out of it. Find new ways to promote your content for outreach purposes. You'll be surprised how quickly your network will grow.
The 2 guest blogs (and author's about page) have generated nearly 3,000 page views.
They've also resulted in 251 hours of time on site. 
I pulled some additional numbers to show how these outreach efforts impacted my site over the first 12 months. 
The chart below shows that nearly 10% of lifetime website views were driven by the tactics discussed in this article.
The chart below illustrates how these efforts have driven 1,668 hours of time on site. 
The chart below shows how these efforts have driven 24,889 page views.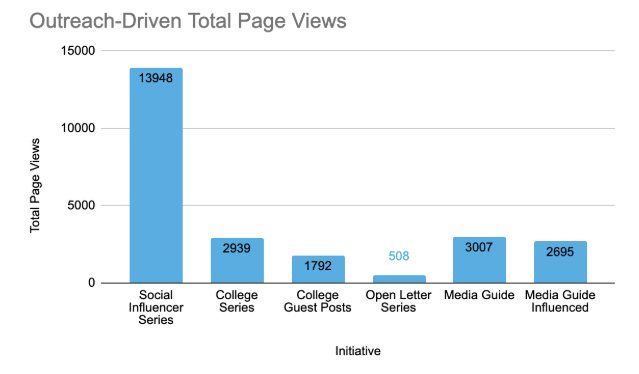 Outreach of any kind takes a lot of time and energy to do well. That's why most bloggers don't bother. (Competitive advantage for you!)
In my experience, it's worth tackling a few initiatives within your first year to help generate traffic before Google shifts into gear. Outreach can also help you build a great pipeline of contributors for the future!
Over to YOU
Please leave a comment to ask questions about any of the topics.
Or, even better let us know if you have any novel ideas.