I worked with Content Refined on this case study as a paying customer.
It worked so well for me and you can do the same thing. I'm an affiliate so I get a commission if you make a purchase through my link.
Plus you get the step-by-stey details so you can do it on your own.
One of the fastest ways to get more traffic to your site is to tweak and improve existing content.
You can get results so much faster than link building.
Here's the big thing…
Let's say you have a post that's doing well, maybe even ranking #1 for a term, but over time it declines.
It needs some love…
I've done this several times across my sites, even on Niche Site Project. Here is an example, illustrated by SEMRush data (affiliate link), for a post that I've updated over a couple of years.
Content Refined has an offering called the "content upgrade strategy" among several different content-related services offerings.
This offering was created specifically for existing/recently purchased sites that have a ton of content that might either be getting stale or outdated.
The execution of this strategy can have a big impact on rankings in a surprisingly short period of time. This Google Analytics shot shows the improvement over 4 weeks compared to the previous 4 weeks. It's a 13% improvement – Awesome!
UPDATE August 21, 2019. The content has aged a bit and improved even more. This chart shows the data  from April – August 2019 compared to 2018 — comparing one year to the last helps remove seasonality.
Some of the individual posts really jumped in traffic!

This is a data-backed case study about how the upgrade services at Content Refined boosted the organic traffic to 10 of my blog posts on a content heavy website I own and how it has helped to improve the rankings, traffic, and earnings.
I'll share:
How content upgrade boosted the number of ranked keywords for my website
The data presented here is taken a month apart. The "before the upgrade" data is for April 1st, 2019 and the "after the upgrade" one is for April 29th, 2019.
With the help of their team, I chose 10 blog posts that I wanted to see improvements on. They'll do a mini-audit to see where the best opportunities are.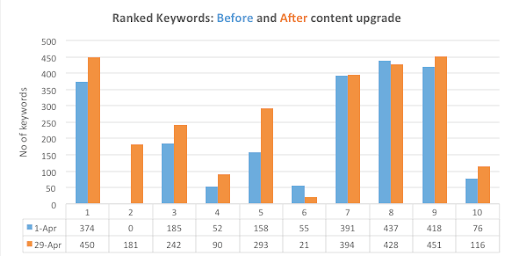 We have numbered the blog posts 1 through 10 and graphed their performance before the content upgrade services. In 8 out of 10 cases, there was an improvement in the number of keywords for which the respective blog ranked.
Drilling down further, Blog #2, which had a score of 0 earlier, shot up to 181.
This means that while the blog post was not showing up for any of the popular keywords on April 1, content upgrade helped it get listed for 181 keywords in less than one month!
It would be incomplete to talk about website traffic improvement without talking about page views and sessions. Taking our analysis to a deeper level, we recorded website traffic numbers for the same pages before and after the content updates.
Our data analysis spread over a period of two months led to the following conclusions from Content Refined:
Page views
Total number of page views for our sample increased from 3399 to 3835, an overall improvement of 12.83%
Individual blogs saw an improvement of anywhere between 10% and 186% in the number of times their page was viewed
Sessions
Increased from 3013 to 3351, an improvement of 11.22%
Individual pages saw an improvement in sessions up to 218.18%
The highest improvement level in Individual pages having a minimum of 100 sessions before the content upgrade was 111%
Average session duration improved by 27.33%
I pull some other screenshots, slicing the data a little bit differently so these screenshots don't match up with the analysis above.
So I pulled the reports based on the day after the posts were updated through the end of the month. You can imagine it's just a minor point over about 5-6 days, but it makes a tiny difference.
Check out the traffic compared to last year for the same month. That removes seasonality from month to month.
Theory:
The theory behind the Content Upgrade strategy is that 80% of website traffic is going to come from 20% of your content- so you better be taking care of that 20% by not allowing it do "die".
In other words, taking care of existing content is equally, if not more important, than creating new content.
If you continuously analyze, update and fill the content gaps on really important pieces of content, it should continue to perform well on your website.
How to Improve Content Step-by-Step:
After going through this process with Content Refined, here are the steps and takeaways that you're going to want to do in order to complete a content upgrade, from start to finish, on your own.
1. 80/20 Your Content
Figure out what your 80/20 is. If those pieces of content are starting to flatten and lose their ranking for keywords then you might want to think about upgrading these.
Using a tool like SEMRush is a really great way to identify these pieces of content. You can look at the specific posts that are bringing in the most traffic from Google. One advantage is that you already know that Google likes the page so if you can make it better, then Google should like it more.
If you observe a drop in traffic, you should do something and improving content is a logical first step.
It's best to make the improvements periodically before you see the traffic drop. So even if you're ranking #1 for a term, it doesn't mean your work stops.
If you work with Content Refined, they can help you find the right posts to upgrade and improve.
2. Use a Content Analysis Tool
Content Refined uses Marketmuse which is really expensive. Marketmuse will allow you to input your existing content, your main keywords, and your title.
Marketmuse will analyze your text against every other piece of content on the internet about the same topic.
It will then spit out a list of suggestions, content gaps, keyword variants and questions you should answer throughout your content. This will give you a framework to work within while figuring out how to upgrade your content.
The only people that can use Marketmuse are media companies or content agencies…
A cheaper alternative is PageOptimizer Pro (affiliate link). It's not as robust and helpful, but it's actually affordable!
A free alternative is the Google Search Console. You can download a report for the keywords that a URL is ranking for. It's not as clear cut but it's the cheapest way to get keyword data. You'll have to sort through and filter the data for your site and you won't have any of the other data from other sites.
3. Make Updates and Edits Based on Content Analysis.
Using the data from Marketmuse, implement changes to your content, and fill identified content gaps with new high-quality content.
This will require you to spend quite a bit of time reading, editing and piecing together old content and new content.
Ideally, you'll want to add 500-1000 words of new content!
If you're taking the DIY route, then I highly recommend using the FAQ method where you add 5 – 10 questions and answers to your content. It's not as scientific, but it's cheaper than Marketmuse.
4: Republish the Article
The post is already indexed and you don't want it to have to re-rank for all the keywords it's already ranking for.
So do not republish the post on a new URL. You just need to update the post and if you'd like to update the publish date, you can. The important part is the actual content.
Track Your Results
Update your post and track the analytics from before and after to watch its effectiveness.
You should see some results as quickly as a few days or up to a few weeks. It's pretty fast though. It's faster than link building. Links can take months to show their impact.
Want More Tips to Improve Content?
The Keyword Golden Ratio is one of the easiest ways to incorporate into your content to improve it.
My usual process for improving my content looks like this:
I publish a large amount of content

I let the content sit a little for at least 2 months. I do this because rankings move and I want to just publish a lot of content and see what works well first.

After a while, I come back to it and look at what's ranking not quite number one but it's in the top 20.

I use SEMrush to pull that data but you can go to Google Search Console and get the same kind of data.

After that, I prioritize that list – I like to start with the highest ranking content first, which means that I've started with the content that's ranking number two. Then I go back and assess that content and figure out what can be done in order to improve it.
3 things you can do to improve your content
Add more products to your reviews
Let's assume that we're talking about a product review, an affiliate type of article. I like to take a look at the products that are listed. Usually, for my first post, I'll just have one product. For example, post-it notes.
When I come back to improve it, I can go over to Amazon and find 5-10 other products that fit the mould for that particular review. I add the products in and write a mini-review for each one of those products.
The mini-reviews cover the features, a couple of advantages and disadvantages in a short bulleted list, and a few other specifics.
The cool thing about mini-reviews is – even if you do that at a minimum, you're probably looking at about 150 words. If you just spend a little more time on these reviews, you can end up with about 400 words for each one of those mini-reviews. So, if you put 5 products in there you have another 2,000 words without trying.
Personally, I usually publish KGR articles that are about 1,000 words long.
If you add another 2,000 words, you've got a lot more content and you're suddenly at 3,000 words. By doing this, you end up with a lot more long tail keywords which is awesome.
Add more content by creating a more thorough buyer's guide
You can do this with the help of The Research Paper Method (RPM), which I've talked about before. If you haven't read about it yet, click here.
RPM is basically researching the topic and looking at the best content for that topic (like our example – post-it notes).
You check out the manufacturer's site, read forums to find out what people are really worried about, maybe check out Facebook groups to get more information about what kind of trouble people are having with the product, go to Wikipedia, etc. Then you can develop a very tight outline. Don't change the existing page that much, just clean up some of it and add to it.
If you do it this way, you'll end up with a really nice outline and you'll be combining all the best resources on the internet about that particular topic.
You can write the content yourself if you want to. I usually hire a writer and give them the outline, as well as the resources that I used and as a result, they come up with great content. At this point, you'll be adding a massive amount of content.
For Project Go White Hat I expanded the post from 2,000 words to about 8,000 and as a result, the traffic went up within by 40% within 45 days, and so did the revenue. 
Add more multimedia, keyword rich alt tags and alt captions in the file name
When I say multimedia, I mean images, graphics, and videos that are relevant to your topic. Normally, I include 2-4 images (Creative Commons) and one YouTube video but you can include as many as you want.
Why should you include videos?
Because that way you're able to draw people in so that they stay on your page longer. It's a good sign to Google when traffic stays longer on your site since Google understands the relevance to the topic of the video.
I usually rename the images to something that's keyword rich or relevant to the topic in some way. Don't stuff too many keywords in there though.
You can also include a keyword rich alt description for the image and a keyword rich caption.
These are the small details that make a difference when you put them together.
Some questions to ask yourself are these:
Are you brand-loyal to the video for the embedded YouTube videos?

How long does it take for a new keyword to rank?

I created a 2,000 words post with KGR and Google is ranking an existing post for the KGR keyword now. Should I be concerned or just give it time?

If you have a website in a specific language that already has a good authority in the country, do you think that an English version created in a new directory would have better chances to rank in a new subdomain?
---
Content writing goes way beyond creating backlinks and throwing in SEO related keywords. It's about creating carefully crafted, high quality and strategic content.
Every business should be keeping an eye on their 80/20 and making sure that those posts are taken care of and making sure that it shines through zettabytes of online data!
If you're interested in using the Content Upgrade service that yielded great results for my site- you should definitely check out Content Refined!
I'm an affiliate so I get a commission if you make a purchase through my link. Thanks if you use my link – I'll buy organic dog treats and craft beer.
What's next? I'm sending some links to a few of the posts to see if the rankings and traffic go up even more. Keep an eye out for that part of the case study!