One of my buddies, Graham, wrote this post for me and he's also a student in my course. He's been dabbling with ads on his sites and he's doing really well with it!
Graham breaks it down for you so you can experiment with display ads.
Hi there! This is Graham, one of Doug's students and someone who is pursuing internet marketing full time.
I've learned a lot over the past two years from doing this, so today I am going to share with you an awesome display ad company that I've used to diversify my income: Mediavine!
Here is a quick overview of what I will be talking about below:
Why You Should Diversify Your Income
How Mediavine Allows You To Monetize All Of Your Content
Getting A High RPM From Mediavine
How Mediavine Helps You Optimize For A Higher RPM
The Cons Of Running Ads On Your Affiliate Site
How much can you make with display ads?
If you want to go deeper into the Display Ad space, you should check out my friend's course. Jon Dykstra is making about $40k/month and it goes into everything you need to know.
*I'm an affiliate so I get a commission if you buy through my link. Thank you!
What Is Mediavine?
Mediavine is a top of the line ad network that connects web publishers with high-quality, premium ad publishers. This allows website owners to get a high RPM (revenue per mile) which is how much you get paid for every thousand visitors that come to your site.
RPM = (Income/Page Views) x 1000
Adsense usually pays $2-5, which is peanuts. Mediavine, on the other hand, can pay anywhere from $10-20, and possibly more.
Keep in mind that every website is different, and because of this, RPM's across the board can vary widely from website to website, and niche to niche.
That being said, Mediavine has a great reputation in the internet marketing world, because on average, they help webmasters make a lot more money than traditional ads, especially if you are in a product-based niche.
On average, this month I have an RPM of ~$20 through display ads, which is fantastic.
Now that I have hopefully piqued your interest, let's take a look at all of the reasons why you should consider signing up for Mediavine.
1. Diversifying Your Income Is Crucial
The first reason you should consider applying for Mediavine is that it is a way to diversify your monetization strategies and income.
Internet marketing, specifically affiliate marketing, is a rapidly changing industry. Commission rates change, affiliate programs shut down, and other unforeseen events can throw you for a loop.
You can even get hit with an audit out of the blue, possibly jeopardizing your niche site empire.
This means a site that is making hundreds or even thousands of dollars a month with affiliate marketing can disappear overnight. The thought of that keeps me, and I'm sure a lot of you, up at night.
However, by utilizing display advertising you can have another stream of income come in relatively passively.
This means that in the event of a major shift in the affiliate world, you will still make money.
This, of course, is the worst case scenario and is something that affiliate marketers have been talking about since the '90s. Will affiliate marketing die? Probably not, but it's worth diversifying your income.
In reality, you should use display advertising in order to increase overall revenue, but it's important to hedge your bets in case things go south.
2. You Can Monetize All Of Your Content
If you have followed Doug's guidelines, chances are you have a decent amount of informational content on your affiliate site.
This is done in order to establish trust and authority, both in the eyes of the reader and with Google.
You can use this informational content to interlink to affiliate content on your site and hope that the user eventually clicks through and make a purchase.
This may happen depending on a number of factors, but I would guess the likelihood of that is pretty low, especially for broader informational searches. This essentially means that you have a ton of content on your website that you are not monetizing.
However, all of this changes when using Mediavine.
You are able to monetize every page on your site, including all of your informational content, affiliate content if you chose to run ads on it, your homepage, etc.
Think about how powerful this – you can pump out a ton of informational Keyword Golden Ratio content (which tends to be easier to rank for than monetizing keywords), and make money off of it.
Additionally, you can drive social traffic, which oftentimes doesn't convert as well with affiliate offers, and make money off it.
3. High RPM & It's Passive
As I stated above, in my personal experience, Mediavine pays a significantly higher advertising rate than many other online platforms.
It's also truly passive once it has been set up properly – the experts at Mediavine handle everything, and I just check in every few days to make sure the site is up and running and the money is flowing in. It's wonderful.
4. Powerful Analytics & Data To Maximize Revenue
Mediavine makes money by taking a percentage of the revenue that your ads bring in. Because of this, they have an incentive for you to make the most amount of money possible.
In addition to the high-end support when you first get accepted into the program, they also have a rich set of data analytics so you can see exactly what ad placements are bringing in what, and a site health inspector.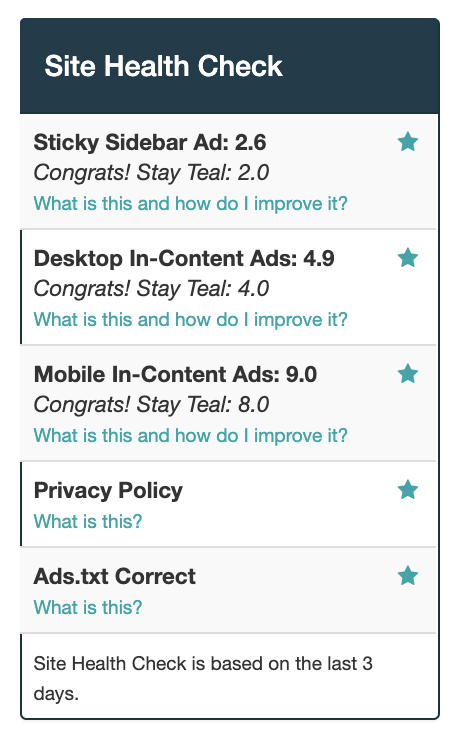 This is a powerful tool that gives you rankings on how well your ads are doing, along with suggestions on how to optimize your RPM across your site.
By following their advice on my site, I was able to slowly see an increase from ~$10 RPM when I just started out to ~$20 RPM.
The Cons Of Running Ads On Your Affiliate Site
Although I am personally a huge fan of Mediavine, no service is perfect. There are a couple of issues, but to be honest, most of these issues aren't actually with Mediavine, they are with running display advertisements in general.
That being said, they are still worth taking a look at.
1. It Will Probably Slow Down Your Site
I am not a technical expert, but I believe display ads work by pulling the ads from a server-side network that the ad publisher runs and then serves it up to the users on your site.
This is a resource-intensive process and can slow down your website significantly overall. However, as far as I can tell, the ads load separately from the website, so the user experience isn't really affected for the most part.
2. It May Detract From Affiliate Commissions
This is perhaps the most daunting aspect for affiliate marketers – people may click on your advertisements instead of your affiliate links, or simply not click on an affiliate link at all.
This is what happened to me personally – I used to have a $33 RPM just using affiliate links. When I added Mediavine and set everything up properly, I started averaging about a ~$20 RPM with the display ads.
My affiliate RPM actually dropped from $33 to $30, but overall, with the combination of affiliate links ($30 RPM) and display advertising (~$20 RPM), my total RPM is now ~$50, which I am very happy with.
I can't stress this enough – your mileage may vary. I suspect for most people, adding Mediavine will lead to an overall increase in RPM.
However, if you already have a super high RPM ($70-150+) due to hyper-targeted traffic with expensive affiliate products, adding any form of display advertising may actually lower your RPM if people click on your ads instead of your affiliate links, or simply don't click on anything at all.
This is why it is crucial to measure your RPM both before implementing advertisements and after.
3. The Ads Are Definitely Prevalent
I'll be the first to admit it – the advertisements are definitely there. I was worried about my readers getting scared and pogoing off of my page, but to my surprise, the metrics on my side haven't changed at all.
No increase in bounce rate. No dramatic drop-off in time spent on page. It's been great and my readers don't seem to mind in the slightest.
Keep in mind, again, that your mileage may vary.
How To Sign Up For Mediavine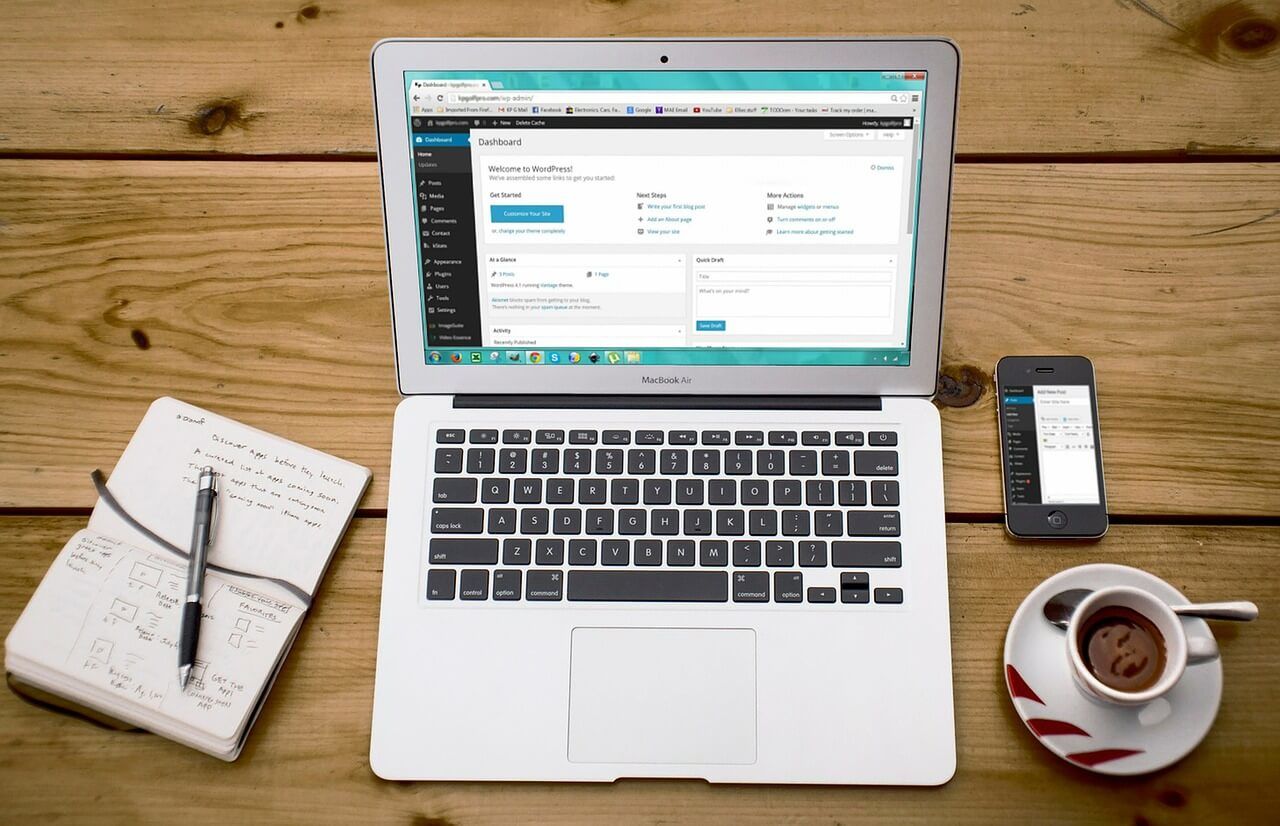 The Mediavine sign up process is straightforward. Simply go to Mediavine and click "Apply Now" in the upper right-hand corner, and fill out all of the details.
Keep in mind that, as of the time of this writing, you need 25,000 monthly sessions to be considered.
If you're not there yet, try pumping out more KGR content – you will get there before you know it!
Once they process your application internally, they will send it over to their advertising partners in order to make sure you are a good fit. This might take a couple of weeks, so sit tight and be patient!
If you are accepted, they will let you know and get you set up on the platform after signing the necessary documents and such.
Keep in mind it will probably take a few weeks for the Mediavine team to ramp up your RPM, but if you follow their instructions, you should eventually see some tremendous earnings.
Final Thoughts
I have really enjoyed my time with Mediavine, and I hope to continue bringing new websites into the fold. I think they are a fantastic group of people who have done great things to the advertising world, and truthfully, I can't recommend them enough.
If you do decide to move forward with them track your numbers and allow the team a few months to get everything optimized in their end. Best of luck!