I decided to sell the site since it's sitting there. I'm starting some other projects so I want to close out projects I know I won't work on.
I'll let the site go at a loss — I've spent over $12,500 on the site which was about a year and a half old when I got it. The domain was registered in 2018.
Here are some details:
96 posts
Domain Rating: 4.3
3000+ Monthly visitors
Earning about $20-30 per month (Amazon Affiliate Marketing), down from a high of about $180 in April 2020.
Traffic dropped in May 2020 with the Google algorithm update.
Ranking for 1336 keywords (ahrefs)
13 SERP features (i.e. featured snippet, ahrefs)
In the Tools Niche – Consumer-level tools but you could include contractor-grade tools as well.
Hosted at Site Ground. I can personally assist in the transfer.
Uses AmaLinks Pro so it'll be easy to update the Amazon Associate tracking id. You'll need to get a valid current license to keep using.
I'm looking for an all-cash deal via escrow.com.
I'll provide access to my courses to help you out if you need them. I have 4 courses that could help out — especially Site Growth Plan. That one will very helpful to assess what to do and what to prioritize.
Here are some FAQs…
Why are you selling?
I haven't worked on the site since late 2019 and don't have plans to. I'm starting a new podcast in the personal finance and financial independence space.
Plus, I know that someone with time can do something great with this site.
Any specific strategies you used in the content creation?
I hired Human Proof Designs to do the keyword research for Keyword Golden Ratio keywords. Some are informational, some are product reviews.
Then, I hired a content company (Content Development Pros) to write the content.
If I kept the site, I would add FAQs to some of the posts and use a tool like Market Muse or Page Optimizer Pro to optimize the content.
Is the niche homeowner tools or contractor tools – ie. who's the audience?
Mainly homeowners, but many of the tools are advanced. The domain would support contractor-grade tools and products.
How many words of content?
There are about 110K words of content. I used https://websitewordcalculator.com/ and it reported this:
Total unique wordcount:
121,605
But some of the pages are archives or privacy or similar legal pages. So we can estimate about 110K words and be fairly accurate.
How much do comparable sites cost?
The best comparison is where I bought the site, Human Proof Designs, one of the most popular done-for-you site companies.
They have aged sites that range from $1800 to $6000. I paid about $5500 for this site.
They also have revenue-generating sites from $3400 to $6500. These bring in a range of revenue and have some ranking keywords.
My site has far more content than the HPD sites. I added about 50 posts after I bought the site in 2019.
How much are you selling it for?
I'm looking for $10,000, over $2,000 less than I spent on it. But it's like a real estate listing, so you can offer more or less depending on what you see the value as.
So I do expect offers of over $10,000 (since there are over 100k words of content).
It's taken a hit on traffic but was making about $150-$180 in early 2020.
It's well out of the sandbox and it's under-monetized since there are no display ads.
But I'm open to offers and have gotten interested queries for all cash deals already. I'm not looking to maximize the selling price or having a bidding war.
So if you have a strong interest above or below $10k, please let me know. I'd love to have a quick transaction and keep it simple — sending the ASCS to a good home. I'll ask for proof of funds (a screenshot) to cover the costs, then I can share more information about the site.
Screen Shots
2020 Earnings
2019 Earnings
Traffic for the last year, Mar 2020 to present
Traffic since I bought the site in 2019
Some featured snippets (13)
Ranking for 1300+ keywords
Overall from ahrefs
Organic Search Graphic
Link Graphs
---
Last Updated April 28, 2020.
The premise of this case study is to:
Buy a pre-made Amazon Affiliate Niche Site and outsource the work to hit a positive ROI as soon as possible. 
This page will serve as the raw notes page as the case study progresses. I'll add links to posts, resources, podcast episodes, and YouTube videos about the case study.
Be sure to check out my special links below for discounts with some companies.
*Affiliate links below. I get a commission if you buy through my links. Thanks if you do! It's like buying me a beer.
The general process will be:
Buy the site and migrate to my hosting.
Order Keyword Golden Ratio Keywords. 25 informational keywords, 25 product oriented keywords so that's TWO packs from Human Proof Designs.  (5% OFF with HPD with discount code DOUGREF5OFF)
Hire Content Refined (CR) to improve content – Traffic is up by 17.8% after they upgraded the content.
Use KWFinder to prioritize the 50 KGR keywords. Save 10% with KWFinder with discount code "nichesiteproject".
Hire Content Development Pros (CDP) to write, format, and draft the content in WordPress. (Save 10% here & work with my acct manager. Email contact@contentdevelopmentpros.com "(Att: Tim Wilson)")
Comment on blogs using Okay Relax (a VA service).
Have questions for me? Send an email to fe[email protected] or you can leave me a voicemail. (406) 813-0613
April 2020 Update
I got behind with updates after neglecting the site, moving to a new house, and it's been busy!
Multi Profit Site is open for enrollment until May 1 at 11:59 PM MT. I'm adding new units in the next 2 weeks to address the new commission fees.
Two major things happened since the last update:
Covid-19 spawn a drop in traffic for a few weeks, then a boost in traffic. You'll see record traffic stats in the Google Analytics screenshots below.
Amazon lowered commission rates on April 21, 2020. Traffic was up and sales were too. But Amazon sent out an email on April 14 notifying Associate members that rates were going to change.
I haven't done any work at the site since November 2019.
No new content. No link building.
Yet the traffic kept rising. I'll be adding some new sources of revenue soon – display ads and other affiliate programs. I'm still crazy busy with a few other projects so it might be a little while before I can get it done!
Check out the traffic and earnings updates in the sections below.
Podcast & YouTube
I'm coving the case study in audio and video but not all the same topics. So for maximum information, you have to listen and watch it all. It's just a happy accident since I don't record everything in both formats.
Doug.Show Podcast
Doug Cunnington YouTube
Timeline
As fast as possible!
I tested companies for a few months before starting the case study, (including 60 posts from CDPs and Content Upgrades from CR) that way I knew each company could deliver.
Aside: I took off about 1 month over the summer in 2019 and was off the grid. The goal is to grow the business while I'm literally not working. It worked very well and the team wrote and published 50 posts without my input.
Results
The site got traffic on day 1 in my possession – FAR exceeding my expectations.
The first sale on Amazon came in within 3 days, making me feel like a genius.
Is it a fluke? Dunno…
I don't think so — The trend is upwards. August had some high ticket purchases so it's an anomaly.
Check out July 2019 earnings.
August Earnings – First $100 Month
178.95 percent growth over July.
September Earnings – 50% Drop from August
October Earnings – 19.60% Growth over Sept
All of 2019
Jan 2020 Earnings
Jan to Apr 2020 Earnings
Traffic Growth – Google Analytics
I share the growth in traffic and compare month over month.
And I'll show the November 8 Google algorithm update BOOSTED traffic by 29 percent!
Here is the full picture from June through October:
August compared to July – 25% Growth
September compared to August – 14% Growth
October compared to September – 16% Growth
November 8, 2019 Google Algorithm Update
In my stable of sites, I've seen one lose 10% of its traffic and all the others have gotten a lift.
BERT has lifted this site quite a bit!
All Time Traffic (Through Jan 2020)
Jan to Apr 2020 Traffic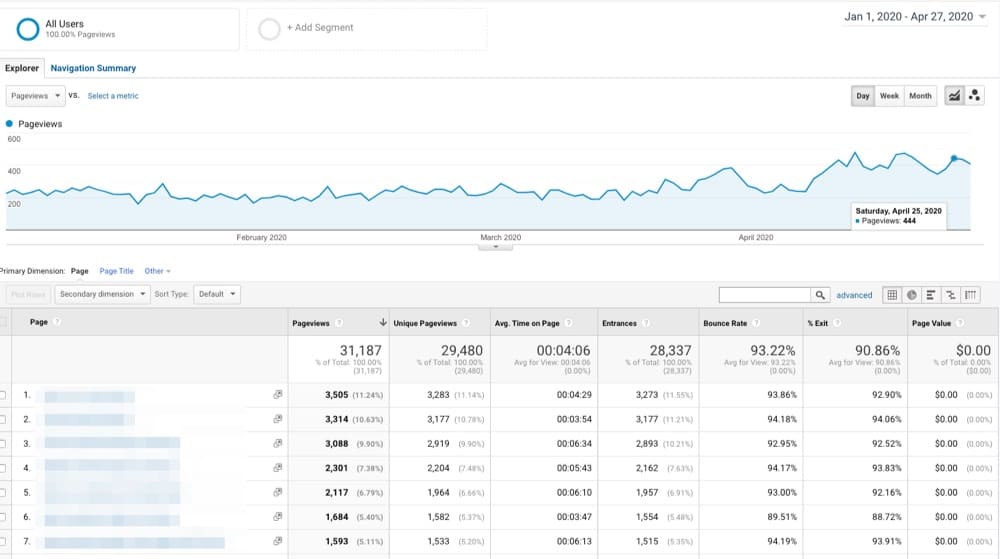 Content Improvement Results – 17% Increase
My friends at Content Refined upgraded 5 of the posts.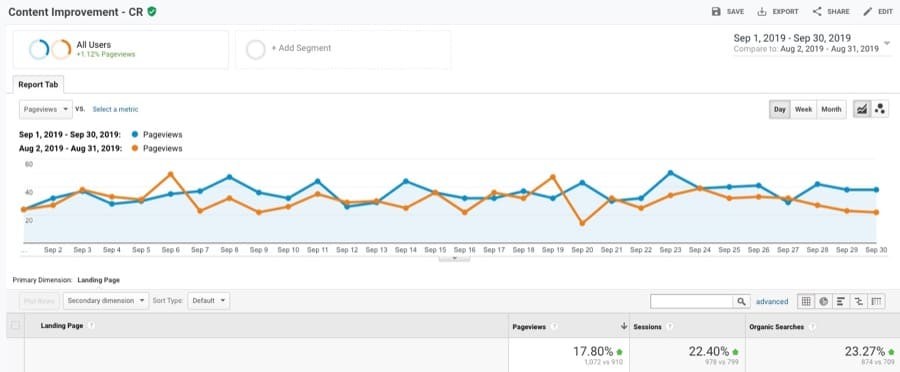 Some of the posts increase, some went down.
Metrics and Data on the Guest Posts
I'm getting a combo of links from the services, 50% of the links go to the homepage and 50% to internal pages.

Outsourcing backlinks is expensive. I've spent about $2,700 for 8 links.
That's $337.50 per link!
Normally, I handle guest posting and outreach in house with one or two of my VAs following a simple process. Some people have more time than money or have failed at guest posting in the past.
I know it's possible to get guest posts even with a new site so I look at the costs per link and cringe! I'm executing an in house campaign where the links are costing about $70 per link… So it's a hefty premium for outsourcing a process with so many moving parts.

Outsourcing Resources
Here are the companies that I'll be using for the case study.
Human Proof Designs
I bought the aged site and the keyword golden ratio compliant keywords here. GET 5% OFF with HPD by using my discount code DOUGREF5OFF
Content Refined
Content supplier and content improvement services.
Content Development Pros
High volume content supplier. Learn more here & Save 10% by using my affiliate link.
Be sure to work with my Account Manager: Tim Wilson (ext: 364) or email contact@contentdevelopmentpros.com "(Att: Tim Wilson)"
CDP published 50 posts in 30 days for me while I was on vacation. Definitely go for the 5-Star, premium level content.
The HOTH
Link building through guest posting.
Loganix: Link Building Services
More guest posting and I decided to try them out after I saw that Brian Dean from Backlinko has a testimonial on their site. The excellent part is YOU approve the site that your guest post goes on.
Okay Relax VA Service
For blog commenting. Learn more about the service. If you sign up through my link, then I'll share my Blog Commenting Job Aide for my VA. Just send me the confirmation email so I can verify on my end.
Site Ground Hosting
I move the site to SG immediately. I'm using SG for just about all my hosting needs now.