Get all my personal templates & systems for niche sites.
This is the most important phase of the process, especially for beginners.
Every single part of the process is dependent on choosing a niche that targets a group of willing buyers.
You can't make the process work if you don't have a commercially viable niche or market.
I like to say:
"You need to intercept a customer on the way to make a purchase on Amazon."
The people visiting your website will be buying something no matter what – so you just need to help them make that buying decision.
But first, they need to get to your website somehow. Creating a niche site that attracts the right kind of traffic is key.
True Story: My first niche site, an Adsense site, was a total flop.
I didn't understand the keyword research tools I was using.
I was following an out of date set of tutorials (even though they were by a successful person).
I messed up on THIS step. I pick a niche that didn't really have any products or services to buy or sell — there weren't any buyers out there. Dumb! What was I thinking…
After spending some time brainstorming niche ideas, you must determine three things to confidently create a niche site monetized with Amazon.
Are products in the niche available on Amazon?
Is the niche big enough?
Is the competition level acceptable?
Keyword Research on Amazon
The first one is easy. You can simply head over to Amazon and search for some products in the niche or market.
Within a few moments, you'll know exactly what products are out there, plus you can quickly see some related items on the product pages. In less than an hour, you should be able to generate a list of dozens of products on Amazon. Let's have a look.
Your ultimate goal is to help people gather product information so they can eventually buy something on Amazon.
Why not go directly to the source: Amazon.
In the days when I first got started with niche sites, I wanted to make it as easy as possible. And avoid my previous mistake of picking a lousy niche. I used this technique to create a niche site that made $10,791 in under 6 months.
The best part? I started the site completely from scratch. It was my first Amazon Affiliate site.
I used this technique to find a great product that people really wanted to buy.
And it's so simple that YOU can do the same thing by the end of the day.
Here is how it works:
Step 1: Go to Amazon.com and navigate to a department. (Such as "Sports and Outdoors")

Step 2: Go to a sub category. (Such as "Yoga")

Step 3: Start diving down deeper. Look at specific product categories. (Such as "Mats", "Towels", "Blocks", "Straps", or "Starter Sets"). You'll see top rated products right there.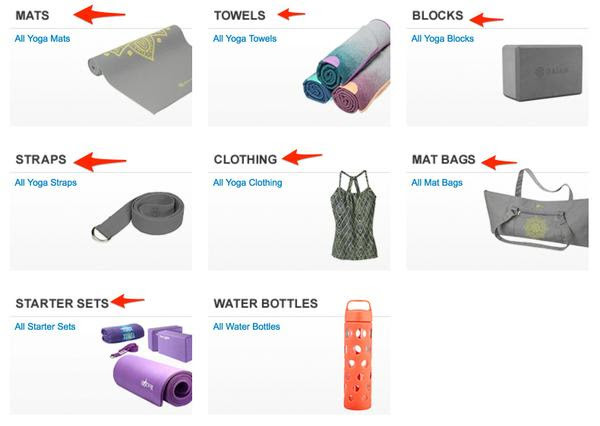 This works so well because Amazon knows consumers better than they know themselves. The best and top rated products are right there for you to see…
For EVERY SINGLE category. And subcategory.
All you have to do is look. The biggest danger with this is that you'll get TOO MANY ideas. 🙂
The technique works great if you're starting a new site or if you're looking for new product ideas for an existing niche site.
Is the Niche Big Enough – Check the Keyword Search Volume
The second one is more involved. To determine if the niche is big enough, you need to use some keyword research tools like the Keywords Everywhere, Keyword Keg, Keyword Finder, Ubersuggest, etc…, really any reputable tool is fine.
Look for the following in the search results:
500 – 10,000 Exact Match Local Searches (your market may vary but I target the US) for the main keywords
Many other keywords (like 20 – 100++) that follow the Keyword Golden Ratio. I'll explain more below, but the KGR is the way to publish content that will rank in Google without any backlinks.
Other niche sites in the top 25 in the Google search results
Active blogs
Active Facebook Pages
Active Instagram Accounts
Active Pinterest Boards
Active Forums
Active Email Newsletters
Active associations, professional or amatuer
These are all general guidelines, and there are many niches that are exceptions. You don't need to find each of the points above but the more you find the better.
Note: If the main target keywords don't have a search volume over 500, it might still be a viable niche.
For example, consider a high priced item like a chest freezer that may not have a high search volume – you don't need to sell as many to earn significant commissions. In addition, you can find dozens of Secondary keywords that will bring in traffic — they can really add up and may be easy to rank in Google.
The Keyword Golden Ratio
This is a concept I developed after combining ideas from some very smart people. The concept is simple but I made the formula accessible by making it simple and nearly foolproof.
Get my personal KGR Calculator Spreadsheet right here…
KGR Formula Explained
The ratio is this…
The number of Google results that have the keyword phrase in the title divided by the local monthly search volume, where the LMS is less than 250.
If the KGR is less than 0.25, then you should rank in the top 100 when your page is indexed.
You should still rank in the top 250 when the KGR is between 0.25 and 1. And it should be pretty fast.
If the search volume is over 250, it's not going to rank as quickly even if some other people tell you that it's fine. I see a high correlation with a higher search volume and a longer timeframe to rank in Google. So if you're just testing out the Keyword Golden Ratio and your site is brand new, then you'll need to stick to the formula.
After your site has some age and you have more experience, then you can experiment and go for higher search volumes.
Success Stories Using the Keyword Golden Ratio
I've tested the KGR a bunch and have case studies on the topic. It's one thing for the strategy to work for me, but it's really impressive when readers just like YOU make it work.
So check out these interviews and you'll believe! There are several interviews so here's the link to the playlist (opens on YouTube)…set aside some time to watch these and be inspired.
Niche Site Competition Analysis
Third is gauging the competition level, and this one is challenging. Each niche and set of KWs is treated a little differently with Google.
Some markets are so profitable that they are fiercely competitive – like website hosting or the real estate industry.
Consider the first page of the Google Search Results for your primary KW. That's right, just the top 10 results.
Within the top 10 results, look for:
KWs in the Title of the page
KWs in the URL of the page
3 or more results with less than 40 backlinks
3 or more results with a MOZ Page Authority (PA) less than 30
1 or more niche sites
1 or more forum posts
1 or more Q & A Sites
Again, these are very good guidelines but I have seen great niches that didn't meet the criteria exactly. I've also seen niches that looked fantastic as far as the competition but turned out to be hard to monetize.
You should spend a lot of time researching the competition to ensure you can actually rank. I've coached people that want to compete with big sites like The Wirecutter, but they are beginners.
While anything is possible, but if you're trying to compete with massive sites, it's very important to start small. I'm not saying you can't compete with The Wirecutter. But if your goal is to compete with The Wirecutter across the board, you'll need a BIG budget and a LONG timeline.
Important: Spend a lot of time on this phase because everything depends on finding a viable niche.
Niche Selection Resources
Since selecting your niche and market is so important for Amazon Affiliate Sites I created different resources.
From the blog:
From YouTube:
From the Multi Profit Site Course:
(The course isn't always open for enrollment. If not, then be sure to join the waitlist.)
External Sources:
The Niche Site Process starts with the right niche and keywords.
Your actual niche website begins with the right framework: a domain name, hosting, and a theme.
How can you improve your keyword search results
Get all my personal templates & systems for niche sites.
Go back to the Introduction to Amazon Affiliate Marketing Niche Site Process and Overview