I've known Rob Atkinson for a couple years now. In fact, I got curious about when Rob and I first met so I just searched in Gmail and found this – our first correspondence: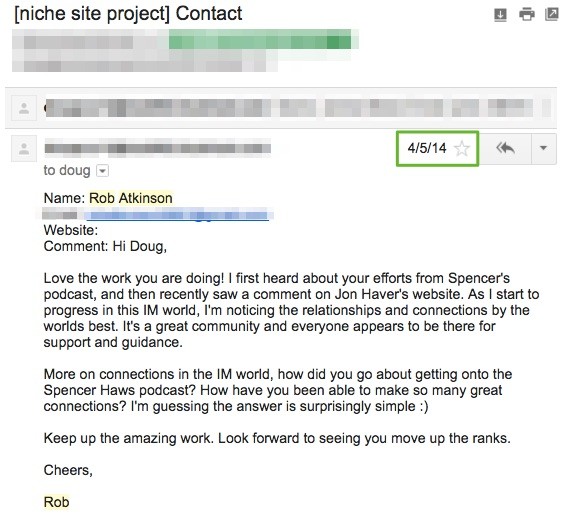 Crazy, eh? (It turns out the answer was simple – I just emailed people and acted pleasant.)
Rob and I kept in touch and later he was featured as a success story where he reached $2,000 for a specific site very fast. (Looking for more inspiration: Here are examples of Amazon Affiliate Sites with traffic data…AND get 15,000 Keywords.)
As time passed, I saw that my skills as a project manager and someone that can set up simple systems to complete complicated processes could help Rob.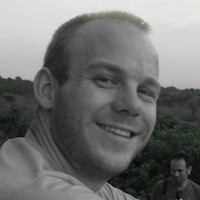 So I coached Rob last year in a public case study and IT PAID OFF BIG for Rob. (You can see all 7 sessions here.)
You know the bottomline from the headline:
Rob is crushing it with his niche sites, making over $15,000 per month net profit. His margins are massive considering that he still reinvests a big chunk of cash back into the business.
Keep reading though…
Rob generously shares what some would consider trade secrets in the 2,000+ word, behind-the-curtain-style success story.
Rob tells us:
How many sites he has in his portfolio (and the majority of them aren't even money makers).
How the $2,000/month site grew by over 125%, then got hit with Negative SEO and what he did.
How a new site shot up to be his top earner (spoiler: It's an Amazon Affiliate Site).
The reality of the SEO – Affiliate Game and how it can all disappear overnight.
His 3 Point Growth Strategy (straight out of the Niche Site Process playbook).
His surprising stance on Private Blog Networks (PBNs).
His income goal for the end of 2017 (and it seems crazy to me).
His link building strategies (and he likes blog commenting like me).
The 3 things a newbie should focus on (and I get a shout out on the last one. Thanks!).
The 10 Questions you can use today to help you size up top ranking competitors.
Before I send it over to Rob, I want to thank Rob for all this great information.
It's super actionable and provides insights that you can only get from someone who has spent a lot of time in the Niche Site trenches.I asked Rob a few questions and he tells us everything!
What site or sites do you want to share today? Is it the same one from your original success story? You can reveal the site if you want, or not…totally up to you.
I hate to keep all my sites private, but it's part of the game.
The site we discussed on the last interview continues to pull in some nice passive income. That said, I've grown my niche site portfolio aggressively over the past year, and now have a total of seven websites that are making money.
In addition, I have around 10 more (some big, some small) sites that are on the cusp of producing income. And while 10 sounds like a lot, the reality is that only 3-4 of them will likely end up making money in the next six months.
For whatever reason, some of my sites end up flopping. The rest of them either don't get enough attention from me, or end up taking closer to a year before blossoming.
How much are you making from the website right now? Or, how much did you sell it for?
The website we discussed last year made $2,000 (non-Amazon affiliate) in February, 2015. The site peaked in May, 2015, making $5,500. The site was hit with negative SEO last summer and has taken a small setback.
Here is the SERP report for the site that was hit with negative SEO: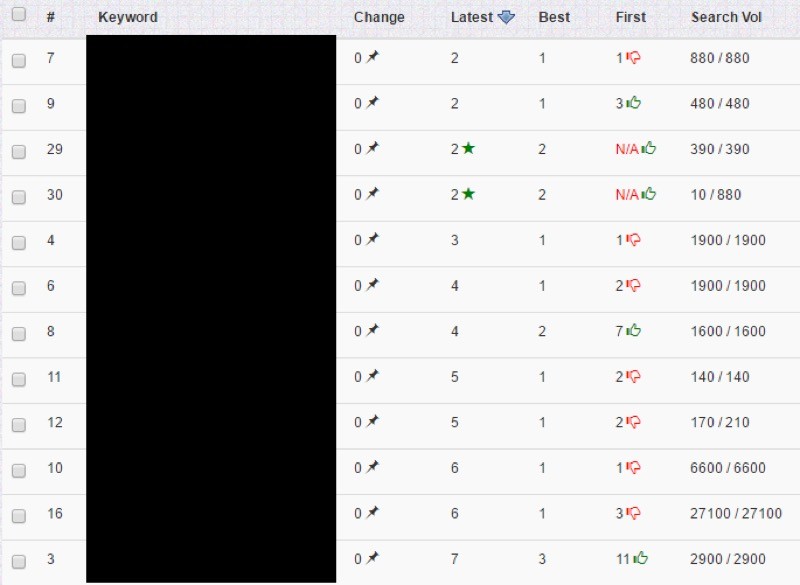 Despite the attack, it continues earn $3,000-$4,000 per month. I use the Google Webmaster disavow tool twice a month in an effort to preserve the site's rankings.
I'm a bit nervous and hope the site makes it through the next Penguin update.
As mentioned, I've added more Amazon Affiliate income to my portfolio since the last success story interview.
One of the sites has now become my top earner and it is projected to make $8,000-$9,000 in February, 2016 (Amazon affiliate Marketing website).
To be honest, I have a hard time believing the earnings when I see them. Here is the Amazon Earnings Report:
The remaining five sites earn less the my top two, but they still add up to a sizeable amount. As of 2/22/16, my February gross income is projected to be around $16,000 (with only 29 days!).
Here is a screenshot of some affiliate payouts in February:

I do have monthly fixed costs of around $1,000 (+/- $200), and I continue to invest a decent chunk of the earnings back into the business. The biggest investment continues to be content for new sites and testing new link building techniques.
And while I never imagined reaching $16,000, I still have a long way to go. The SEO game is volatile one; it's possible I could lose all my earnings overnight to a Google update. I have to keep pushing to the next level before I'm at a place where it starts to feel comfortable.
Here is a SERP report for another site:
If it was the same site from last time, what did you do to grow the site?
The site from our last interview hasn't grown that much since last year. I was able to find an additional product to sell that had good search volume. It has added around $500 in additional monthly income.
While it seems like a no-brainer to grow that successful site even further, the possibilities are very limited due the peculiarities of the niche (trust me, I've spent time looking for ways to grow it).
Here is a Clicky Traffic report (it's an alternative to Google Analytics):
With my new top earning site, I'm making a push to grow the site in a few ways:
1 – Add New Content
I've already added some buyer related articles during the past two months (ie, best red widget type articles), but I plan to increase the number of high-value articles as well (ie, 10 ways to improve in X). I want the site to look more natural in the eyes of Google, and not have it categorized as a "thin-content" only site.
2 – Email Capture
I'm learning a lot of this one. The website is in a great niche, and gets around 1,500 unique visitors per day. While I don't know much about email marketing, I do know I'm leaving money on the table by failing to capture email.
3 – Improve the Existing Content
I'm not going to lie, the content on my top earning site isn't amazing. It's okay with respect to grammar, but the information is too broad. I know that improving the content will lead to more sales, but it's hard to fix something when it's working so well.
Some people love PBNs, others hate them. Where do you stand on PBNs?
I use PBNs on all but one of my current niche sites.
I fully understand the risks and know what I'm getting into. Even though I could lose my entire income overnight, I like the idea of using them.
If you use them correctly, it allows you to see, feel, and experience a successful niche site from behind the scenes.
It helps validate that niche sites are profitable and helps remove some of the mystery. One of the hardest things when I first started was believing that any of this stuff would actually work.
I don't plan on using PBNs forever, and I accept the fact I may get burned using them. My goal is to reach $30-$50 thousand per month in affiliate income by the end of 2017.
At that level, I would feel comfortable taking the time and financial risk to try out a business model that doesn't depend on gaming an algorithm (sounds weird to admit that's how I make money).
Did you use PBNs on your site?
Sure did. As mentioned above, they still work great and they will be a part of my strategy for the next 1-2 years.
After that, my goal is to phase out of them. I figure that my best bet is to use them while I can exploit the algorithm, make my money, and use it to invest in longer term type of websites down the road (ie, authority sites that use white-hat link building techniques).
How are you doing link building now? What's the best use of your time for link building?
I categorize myself as a gray hat SEO because I use PBNs and other 'questionable' techniques.
Other than PBNs, my go-to link building method has been Web 2.0s. I've used the HOTH Web 2.0 packages on most of my sites, and continue to see great results.
Here's an overview of my link building strategy:
Social
My first links are always social profiles (Facebook profile, Instagram, etc). They are the foundation links for all my sites and I believe it makes the site look more natural.
Blog Comments
My second set of links are manual blog comments. I use Doug's blog commenting video and have trained a virtual assistant to do it for me. One caveat with the blog commenting is that I tell my VA to use FakeNameGenerator.com to find random names for the blog comments. I have no evidence to prove that using the same name over and over does harm, but it's just another layer of randomness to my link building.
With regards to blog commenting, I usually pick the 3-5 most important pages I want to rank on my site, as well as the homepage. Each page receives around 25 blog comments. Of those, I predict about half of them "stick"/get accepted by the blog owner, which is fine by me.
Press Release
At this point, I usually hit the website with a press release (all branded and naked anchors). After that, I usually let the website age. I usually add the HOTH package (targets my main page/silo) after the site turns three months old, and sometimes even later than that.
PBNs
For the next month, I watch the rankings closely. If I've done my keyword research correctly, my main silo page should be ranking in the #10-#40 zone. This is where the PBNs come into play. If all goes well, the PBNs should propel me to Page 1, and hopefully inside the Top 3.
Note: Almost all of my link building is outsourced in some way. I use VAs on Upwork, or services to complete majority of the work.
What are the top 3 things that a newbie should focus on to prioritized?
1 – Focus on your revenue first; trim your expenses later.
I can't remember where it from, but this statement has stuck with me: When you're first starting affiliate SEO, don't concern yourself with how much you're spending in relation to your online income. Make it your number one priority to grow revenue at any cost (obviously, within some sort of reason).
Why?
You need to learn what works and what doesn't. As you grow revenue, you get better at the SEO game, and your expenses shrink over time.
Would you rather make $1 in a month and be happy with the fact your margins are 90%, meaning you only spent $.10 to do it?
Or would be rather make $10,000 in revenue for a month, and be happy with the fact your spent $10,000 in expenses to make that happen?
Personally, I would take the latter all day. Although you make $0 net profit, you gain valuable insight into your business. Here are a few examples:
You might find out how to rank a page #1 on Google.
You know what it looks like to gain traffic and to receive earnings.
You learn why some niches are better than others.
You can test different sales copy and learn about conversions.
I can list another 1,000 things you'd learn along the way, but that that would take too long.
At that point, you're going to take all your learnings and apply it your next wave of sites, or the next project. And you're going to become more efficient with your spending and get to a point where you start making a profit.
Summary: Invest your money to test the waters, and accept the fact you'll probably overspend early on.
2 – If you want to be successful with niche sites, it has to become an obsession (or close to it). I don't suggest you quit your day job unless you've experienced some online earnings, but then again I couldn't gain much momentum while working full-time.
Taking the leap and moving to Thailand to do affiliate marketing full-time was extremely risky, but I was forced to succeed; there was no other option. My day job wasn't fantastic, but the security was always there and it never created a strong sense of urgency to take my skills to the next level.
3 – Create systems and let go
I owe a great deal of my success to the coaching calls that I did with Doug around a year ago. One of my biggest setbacks at the time was not being able to create niche sites with any sort of system.
The amount of time and energy I spent researching niches and creating custom article templates was wearing me down.
Doug taught me to let go of my perfectionist ways. We worked together to build a bunch of Amazon affiliate article templates.
Now, all I have to do is complete my keyword research and assign an article template to each one.
It sounds simple, but I was so ingrained in a certain way of thinking that I had mentally blocked it as a possibility.
I now build niche sites faster and with less stress than ever before. In addition, the systems haven't stopped there. Now, I have VAs trained on how to post articles, interlink, and do tiny detail the way I want done for my niche sites.
Is there anything that people seem to think is critical that you don't think is very important?
In general, too many beginner SEOs tend to overthink things. I still deal with this all the time, but I've improved drastically from the early days.
I've asked fellow SEOs some really stupid questions that I don't believe matter, at least at the start of your journey.
In my opinion, if you're guilty of any of the examples below then your head isn't in the right place (note: I still struggle from time to time with all the examples):
Have you spent more than five minutes choosing your WordPress theme, yet you don't have any content, or single visitor to your site?
Have you spent time or money creating a logo for your site, yet you don't rank inside the top 100 for a single term?
I'm not saying you can't do these things and succeed, but pay close attention to what you're working on.
Make sure it's pushing your website or business in the right direction.
Often, you'll find that doing a few small things well can have an amazing impact on your business.
Do you have any additional tips or advice for others that would like to replicate your success with their own websites?
Study the top ranking sites and apply the best of what they do to your sites. Start taking notes on the following things as you scope out the top sites:
Does this look like a site that I could build (Ie, this isn't The New York Times or something)?
What's their keyword density?
Do they use the keyword in the heading tags?
What about images?
How is the site structured? Is there a silo system?
How are they interlinking?
What kind links do they have?
What makes their links different or better than other sites you've seen?
What affiliate programs are they using to make money?
Are they're other niche site builders competing against this site? If so, why are they ranking better/worse than the others?
Success is right in front of your eyes when it comes to SEO.
Do you have a blog or other place that people can following along with what you are doing?
Just Twitter: https://twitter.com/RobAtkinson0687